323 reindeer were found dead in what could easily be confused for a man-made mass grave in Hardangervidda, Norway. Locals state that the animals were killed by a lightning strike. The animals will regularly huddle together during intense storms to keep warm and protect younger members of the herd. Unfortunately, 70 of the animals killed were only calves.
While it is somewhat common for animals in the area to be killed by lighting locals have never seen death at this scale before. Norwegian Nature Inspectorate spokesman Knut Nylend told a Norweigan news station NTB:
"We've heard about animals being struck by lightning and killed, but I don't remember hearing about lightning killing animals on this scale before,"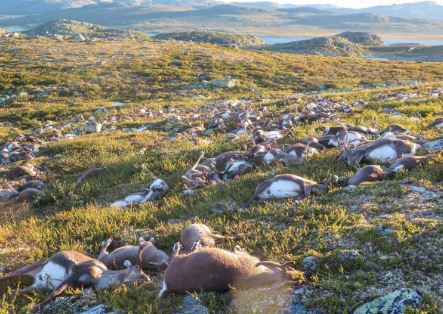 Officials from the Norwegian Nature Inspectorate found the animals while monitoring the activities of hunters in the area. They took an official count of the animals on Sunday. See video aftermath of the incident below.
The NNI reportedly euthanized four animals that were critically injured by the storm. The NNI will take samples to ensure that the death was caused by lightning and not some form of virus or chronic wasting disease.
[revad2]