Two U.S. soldiers have been injured in an IED blast near Jalalabad, Afghanistan, according to Resolute Support officials. On Monday it was announced that the soldiers were injured while out on patrol at the time of the blast via Twitter. The names of the soldiers have not been released to protect their identities. Both Soldiers survived the attack with minor injuries after the vehicle they were operating was struck by the device.
Several service members have been injured in the Nangarhar province in the past month. It has been approximately two weeks since the last incident where American soldiers sustained injuries. Earlier this month five US soldiers were reportedly injured while partnering with the Afghan special forces in the providence.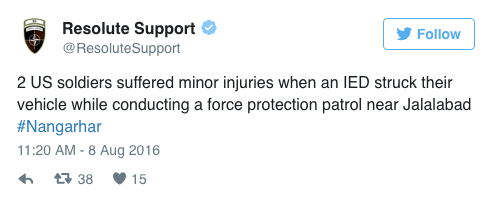 Afghan commandos recently launched a major operation against ISIS fighters and sympathizers in Nangarhar shortly before those five U.S. soldiers were injured. The U.S.-Afghan coalition was able to clear ISIS militants from the restive Kot district of Nangarhar. The mission successfully prevented ISIS from expanding insurgent activities in the country.
[revad2]