California Governor Jerry Brown signed six anti-gun bills into CA law Friday, including anyone buying ammunition having to undergo a background check. This is an unprecedented move upon the infringement of rights of American citizens to freely purchase items in the United States. The Governor is now infringing on free commerce between citizens. Some are wondering if background checks to purchase holsters and slings will be next.
The Governor said in a message, "My goal in signing these bills is to enhance public safety by tightening our existing laws in a responsible and focused manner, while protecting the rights of law-abiding gun owners."
Another one of the bills that Brown signed bans the sale of semiautomatic rifles that have bullet buttons that allow magazines to be easily replaced once empty.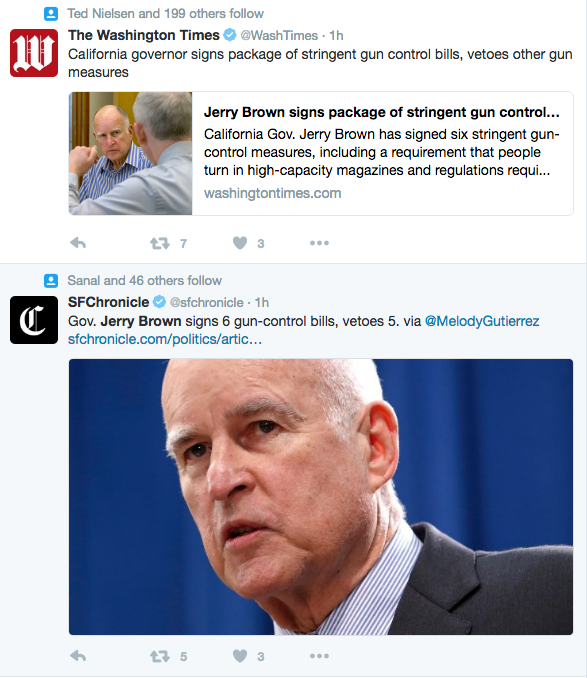 The bills were sent to the Governor by the CA legislature who thought the proper response to the terrorist attack in San Bernardino, CA and last month's terrorist attack in Orlando, FL would be restrict Americans' ability to defend themselves by trying to block access to weapons. With these measures it is guaranteed that Americans living in CA will have a harder time gaining access to the tools to defend themselves.
Terrorists have publicly said that they will be targeting areas that have limited access to guns.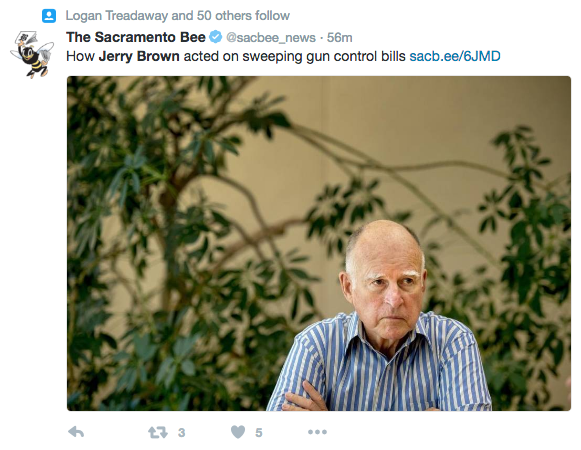 The bills will:
— Outlaw assault rifles with a feature known as a bullet button, which allows shooters to use a small tool to quickly change magazines
— Mandate background checks when a gun is loaned to someone other than a close relative of the owner
— Boost penalties for filing false reports of stolen guns, a measure targeting straw purchasers who buy weapons on behalf of people prohibited from doing so
— Create regulations for ammunition, including requirements that ammo sellers get a license and that purchases be screened
— Ban possession of magazines capable of holding more than 10 rounds, requiring people who already own them to turn them in to authorities
He vetoed bills that would do the following. However, some of these things will be up for a vote in November on a statewide ballot which will most likely pass.
— Ask voters to stiffen penalties for stealing guns, which were inadvertently reduced when voters approved Proposition 47 that raised the threshold for a theft to be considered a felony
— Require registration of homemade firearms, which critics call "ghost guns" because they're not required to have serial numbers
— Expanded the types of people who can seek gun-violence restraining orders under a six-month-old program that allows courts to temporary revoke gun ownership rights of people suspected to be dangerous to themselves of others
— Require gun owners to report lost or stolen firearms to authorities within five days
— Restrict all firearm purchases to one per month, a limitation that currently applies only to handguns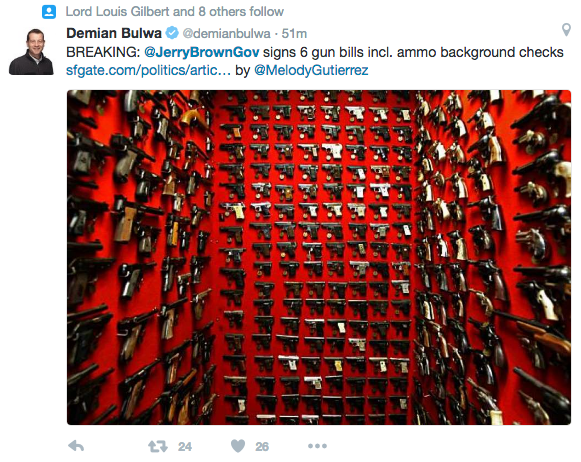 The bills are as follows:
Signed:
AB 1135 – "Assault Weapons" Ban
AB 1511 – Criminalizes Loaning Firearms
AB 1695 – Expansion of Prohibitions and Threatening Letters from DOJ to Gun Owners
SB 880 – Expands "Assault Weapons" Ban to Include "Bullet Button" Semi-Auto Rifles, Pistols
SB 1235 by Senator Kevin De León (D-Los Angeles) – Ammunition
SB 1446 – Ban on ALL Magazines that were Designed to Hold More than 10 Rounds
Governor Brown vetoed:
AB 1673 – Expands Definition of "Firearm" to Include Non-Firearm Materials
AB 1674 – Expands the 30-day purchase limit to all firearms; deletes the "private party" exemption
AB 2607 – Expanding Gun Violence Restraining Orders
SB 894 – Mandatory Law Enforcement Reports for Lost or Stolen Firearms