Watch what happens when a black belt pretends to be a white belt
An expert in mixed-martial arts pretends to be a white belt when facing off against competitors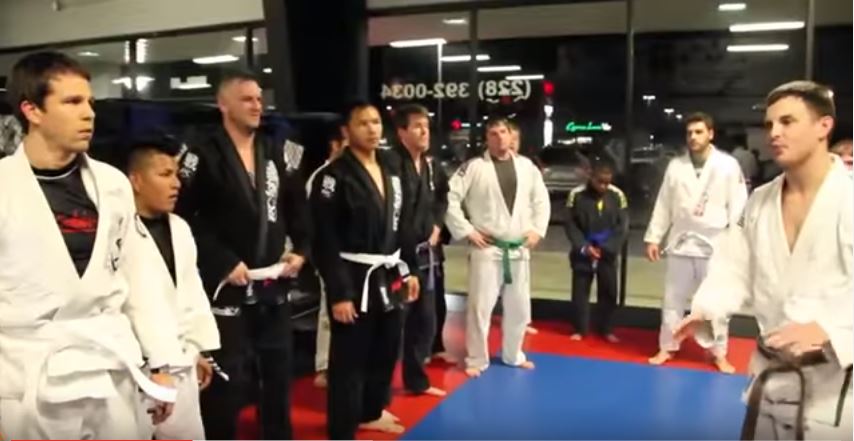 Black belt mixed-martial artist pulls off a prank by pretending to be a white belt (YouTube)
In East Asian martial arts, the black belt is a way to describe a graduate of a field where a practitioner's level is often marked by the color of the belt. The black belt is commonly the highest belt color used and typically denotes the highest degree of competence.
In this video, we see one of the guest instructors, named Alex Vamos, putting on a white belt and going to the mat with the rest of practitioners, even though he is a black belt.
Vamos, an expert in mixed-martial arts and and Brazilian Jiu Jitsu wears the white belt in an effort to trick the other martial artists into thinking that he is brand new to mixed-martial arts.
In the beginning of the video, Vamos pretends that he has no idea how to properly wear the belt by wearing the belt the wrong way.
When he heads out to the mat, one of the other instructors actually has to walk up to him and fix his belt before beginning any of the basic exercises.
When beginning his first few exercises, Vamos pretends to struggle to get through some of the basic exercises, including basic grappling techniques that everyone else in the room knows how to competently understand and participate in.
However, once Vamos starts competing in practice matches against the other mixed-martial artists in the room, he begins to dominate all of them by quickly gaining position on them and getting the winning result.
After he wins several matches, one of the instructors reveals to the class Vamos' identity and mixed-martial arts rank.
Vamos then gives the class some advice about fighting.
Vamos tells them that even if they are fighting someone of a lower rank, they shouldn't take them lightly and should compete to the best of their ability, otherwise that other person may surprise them and get position on them and beat them.
Several of the martial artists in the room were shocked that Vamos turned out to be a black belt and an expert in mixed-martial arts.
Those that fought against Vamos got a lot more than what they bargained for.