A Navy Blue Angel pilot died yesterday reportedly maneuvering his aircraft away from an apartment building before it crashed.
[revad1]
Pilot Marine Capt. Jeff Kuss died Thursday afternoon near Smyrna Airport in Tennessee during practice training for the upcoming Great Tennessee Airshow, The Associated Press reported.
Reportedly, in order to prevent his aircraft from hitting into an apartment building, Kuss purposefully did not eject so that he could maneuver the aircraft away from the building.
American Military News also spoke with several military aviators who also reinforced that if there was any danger of the plane hitting civilians the aviator is to stay with the plane to avoid any innocent loss of life.
The Blue Angel pilot did not eject, it appears so he could ensure his aircraft did not hit an apartment building. That is a hero, folks.

— (((Dan Isett))) (@DanIsett) June 2, 2016
Smyrna residents held a candlelight vigil to honor husband and father of two, Capt. Jeff Kuss on Thursday.
Dick Walstad, the organizer of the "AirSho" in Fargo, ND who has had the Blue Angels perform at his event also said that Captain Kuss is probably was a hero in his death.
"… populated area, a bunch of kids," says Walstad, about why he didn't eject. To prevent further casualties. He was a hero, a hero," said Walstad.
Kuss was married with two children.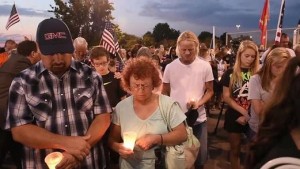 [revad2]