Back in 2013, United States Airman Nathaniel Mills out of the 99th Security Forces Squadron was given the ball during a time out break of the USA Basketball Showcase national team scrimmage at the Thomas and Mack Center in Las Vegas.
In front of a packed house and with Knicks star Carmelo Anthony standing by court-side with words of encouragement, Mills threw down the dunk of his life. The unbelievable part is that he did it wearing his fatigues and combat boots! At the time the score was 68 Blue and 69 White in the 3rd quarter.
Carmelo Anthony slapped Mills a high five and congratulated him. Mills, who was stationed at Nellis Air Force Base said, "You should see me without fatigues and boots." That was true as Mills is a monster on the court.
When Mills jumped to make the dunk, he literally soared into the air with his feet and combat boots.
Check out these videos of this incredible dunk here:
While the YouTube video is titled "ArmyDunk" and the announcers describe Mills as wearing army boots and fatigues, he is in fact a U.S. Air Force airman and Nellis Air Force Base shared an official photo from Mill's dunk.
Mills said he "traces his passion for basketball to watching the Chicago Bulls in 1995 with his father. He saw his father's reactions to the big dunks of Michael Jordan, and he wanted to be able to do the same thing," according to Air Combat Command.
Mills said, "From that day on I played ball, whether it be beautiful outside or raining, sleeting [or] snowing. I didn't care; I just wanted to play. I wanted to be better."
By Mill's junior year in high school, he was finally tall enough to dunk. He said, "It was during a game and [another] player tossed me a pass, and I dunked it. I knew it was a little dunk, but at the time, I felt like Jordan."
Even after Mills joined the Air Force, he practiced playing basketball when he had a chance to. Mills said, "When I was deployed, I was upset because my daughter was just born, and I felt I had missed the first milestones of her life. I had to go, so I did my job the best I could. Where I was had a basketball hoop, so I made a promise to myself. Every night that I was off duty, I would shoot 400 shots and practice dribbling."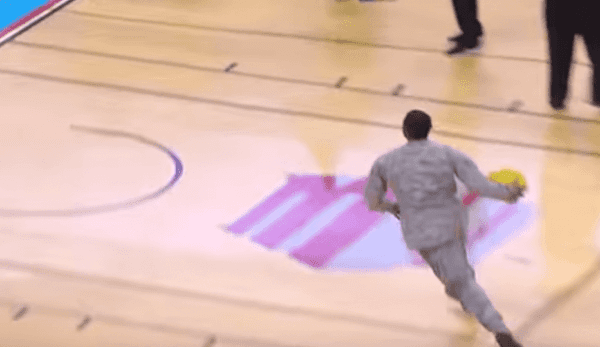 (beyondthebuzzercom/YouTube)
Maybe Mills can earn himself a future spot on the USA Basketball Men's National Team's roster. The event plays by international rules and uses four 12-minute quarters over a three-day period with 28 players, according to USAB.
The White team went on to beat the Blue team 128-106 in front of a crowd of 9,513 fans.
Kyrie Irving of the Cleveland Cavaliers and 2012 NBA Rookie of the Year said, "It was a great experience. I had fun. It was a fun three days. Competing at the highest level is what I love to do."