Marines can be a mean and feisty bunch, both in a good and bad way. One of their mottos is "no better friend, no worse enemy." They also like to have fun at the expense of other sister services. Just ask the Army, and these Air Force JROTC (AFJROTC) cadets.
Three Marines decided to poke fun at these three Air Force JROTC Cadets while at a 2014 drill competition. Their fun entailed ordering the cadets around, despite only being sergeants and a corporal themselves.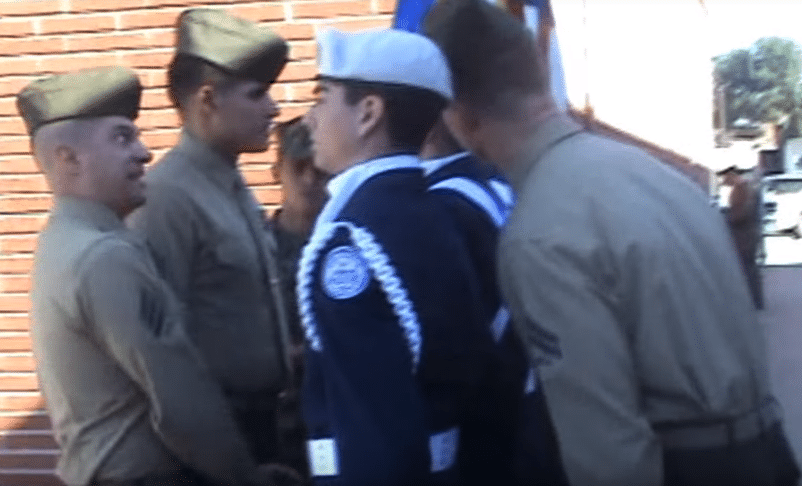 Marine messes with GOHS AFJROTC Cadets at a Drill Competition. (ROCKINdaFILMS/YouTube)
It's not clear who put them up to this, but the camera operator was standing by to film (and laugh).
The Marines first took the cadets' guns to inspect them. First, they quizzed the cadets on the serial numbers of the guns, then they identified rust and oil inside the barrels and called them out on it.
The Marine corporal pushed his role even further, leaning into the cadets' ears and shouting commands that reinforced the other Marines.
He even commanded the cadets to respond, "Aye aye, sir!"
The cadets continued unknowingly obeying commands, even when it was nonsense.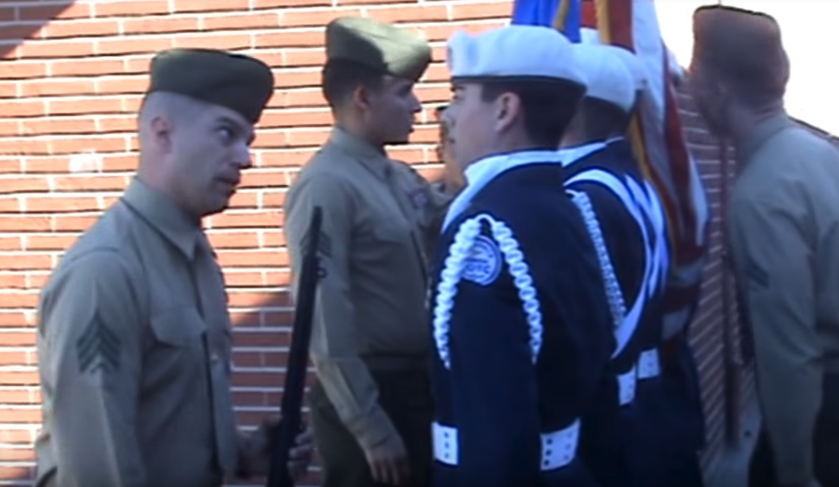 Marine messes with GOHS AFJROTC Cadets at a Drill Competition. (ROCKINdaFILMS/YouTube)
"Why are you shaking? Are you scared? Just a little bit? Little bit? Not at all?" the first Marine asked the cadet, and each question was met with a "No, sir!"
"Are you angry? Are you happy? Are you sad? Are you a little bit constipated?" he continued. Satisfied with enough replies, he said, "Okay, just wanted to know, because you're shaking and I can't figure out why!"
The video even shows some people standing around watching the ordeal, but if they knew what was really going on, they didn't step in and make it known.
"Good day," the first Marine told the first cadet."24 hours in a day."
"How many hours in a day?" he screamed in question at the middle cadet. "How many hours?"
"24? I think it's 23 hours and 59 minutes and 59 seconds. Is that what it is?"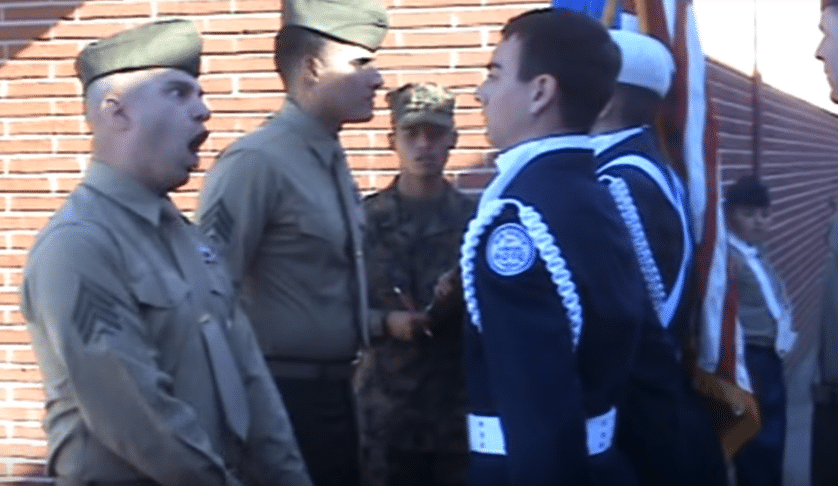 Marine messes with GOHS AFJROTC Cadets at a Drill Competition. (ROCKINdaFILMS/YouTube)
The Marine even took two of the cadets' covers and "renamed" them whatever was on the tag. Thus, the middle cadet became "Cadet Wings Collection."
Despite all the shenanigans, the cadets remained obedient and in formation until the end, even issuing a "Good day, sir," as the Marine walked away.
Watch the situation unfold in the video below:
There's a lot of debate about this video, which has amassed 5 million views since it was posted. Some say the Marines were cruel, others say it's hilarious and that the cadets haven't seen anything yet.
These cadets managed to stay calm throughout their ordeal, although they were visibly shaken. While this was just a joke for the camera, it conveys how service members are trained to acquire the discipline and nerves in any situation.