U.S. House Votes "YES" To Renew Sanctions On Iran And Impose New Sanctions On Supporters Of Syrian President Bashar al-Assad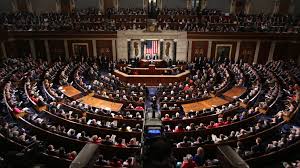 In a 419-1 vote, the U.S. House of Representatives approved legislation to renew an old Iran sanctions law and implement new sanctions on would-be supporters of Syrian President Bashar al-Assad.   
If you have tips you want American Military News to investigate please email [email protected]. Your identity will be protected.
The Iran Sanctions Extensions Act, sponsored by the Republican chairman of the Foreign Affairs Committee, Representative Ed Royce (CA), and the committee's top Democrat, Representative Eliot Engel (NY) was given broad support on Capitol Hill with it's rapid passing in the House.  
This legislation aims to maintain economic pressure on Tehran and punish those who may back Syrian President Bashar al-Assad and his governmental regime.  If Tehran fails to live up to the terms outlined in the nuclear deal, the United States will be in a position to punish Tehran.  
Representative Leonard Lance (NJ-R) said of the legislation,
"Now is not the time to ease up on the world's leading state sponsor of terrorism.  Sanctions work."
Congress first passed the act in 1996, which has been renewed several times since then; the act is set to expire at the end of the year.  The House passing this bill extends that law by another 10 years to 2026.
The bill is now on its way to the Senate where it is expected to pass unabated then on to President Obama's desk where he has signaled he would in fact sign the legislation into law.
The portion of the bill that targets Syria and its supporters is also aimed at Iran along with Russia; any country caught doing business with or providing financing to the Syrian government will be heavily penalized.  
U.S. lawmakers have publicly accused the al-Assad regime of war crimes in its civil war as well as the war on Islamic State; as many as half a million people have been slaughtered while creating one of Europe's worst refugee crisis on record (600,000 documents regarding Assad's war crimes were smuggled out of Syria earlier this year).  Aleppo has taken the brunt end of the violence with thousands being killed on an almost daily basis; the town is almost unrecognizable due to massive shelling.
Representative Ed Royce said,
"What we have now is a grim lesson in human suffering.  We can see the ethnic cleansing going on. Even the United Nations calls this 'crimes of historic proportions.' Enough's enough."
This will especially hit Iran hard if they violate this act by outfitting Syria with commercial airplanes considering the jetliner deal they just got from the U.S. Treasury Department.  Anyone that provides aircraft to Syria's commercial airlines, does business with the transportation and telecom sectors controlled by the Syrian government, or supports the country's energy industry would also be subject to sanctions under the legislation.
Representative Eliot Engel said,
"We want to go after the things driving the war machine: money, airplanes, spare parts, oil.  Something needs to jolt this crisis out of its bloody status quo. This bill would give the administration more tools to do so.  If you're acting as a lifeline to the Assad regime, you risk getting caught up in the net of our sanctions."
If international negotiations result in the suspension of the war in Syria and violence against civilians stops, sanctions could be suspended under the legislation.