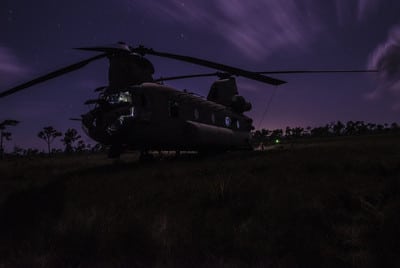 SOTO CANO AIR BASE, HONDURAS, Feb. 22, 2019 — The air hangs quiet and humid over a jungle landscape glowing only by the light of stars and fireflies that decorate the scene; the night would be like any other in the small country of Belize, except for the distant lights of U.S. Army helicopters and their M-240H Machine Guns.
After the sun went down earlier, a UH-60 Blackhawk and CH-47 Chinook rose up to take its place. The 1st Battalion 228th Aviation Regiment headed out to maintain their combat capabilities amongst their busy schedule of humanitarian and anti-trafficking efforts in Central America.
"We're in Belize to conduct aerial gunnery training and do expeditionary operations which is part of our mission tasks," said Maj. Christopher Daily, 228th Avn Regt. executive officer. "We're also here to continue joint operations with other countries. It gives us the opportunity to operate in a complex situation, be able to set up and run different operational cells and figure out how to do business if we need to deploy forward."
Although the weapons qualification might seem like the goal of the operation, the planning and logistics behind all of it was equally as valuable and provided the opportunity for the Winged Warriors to work with their British and Belizean armed forces counterparts to build a more cohesive team.
"This really enhances our partnerships," said Daily. "We do air assault planning and allow them to think through how they're going to use our aircraft. We exercise their capability to plan and integrate us into their mission."
Joint Task Force-Bravo, home of the 228th Avn Regt., also benefited from the exercise.
Staff Sgt. Matthew O'Neill, 612th Air Base Squadron airfield weather operations noncommissioned officer in charge, coordinated with the Belizean meteorological weather service for the 228th to use remote weather sensors and radars to pinpoint weather patterns in the country and learned more about radio sound launches to improve processes back at SCAB. He also taught the weather service enhanced meteorological observation skills to help with their mission.
The 228th Avn Regt. provides heavy lifting and personnel transport capabilities to support U.S. and allied forces operations in the Central American region. Recently, they have participated in Operation Darien Lift to counter illicit drug and human trafficking networks that span the Americas in addition to providing support to patients of the U.S. Naval Ship Comfort as it toured the coast of Central and South America to bring medical aid to those in need.
The Winged Warriors continuously strive to strengthen partnerships, counter threats, and build their team while working to build a better international community for the U.S. and Central America.