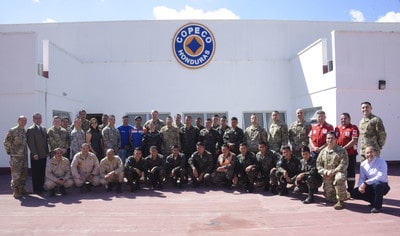 Tegucigalpa, Honduras, Jan. 10, 2019 —
Western Hemisphere Institute for Security Cooperation (WHINSEC) instructors partnered with representatives from Joint Task Force-Bravo and Honduran contingency organizations for an Interagency Crisis Action Planning course in Tegucigalpa, Dec. 10 – 14, 2018.
The subject matter exchange was held at the COPECO headquarters, a Honduran emergency response agency, with the intent of bringing different organizations together and learn about each other's capabilities. Participants included the Honduran Fire Department, Red Cross, Humanitarian Rescue Unit, Armed Forces representatives and 911 responders.
"The exchange was of great importance because we shared each other's functions, we now know which areas we are supporting and what to do not only during a crisis but before, during and after, and how we can support each other in coordination with all participants," said Honduran Navy Captain Heidy Baquedano.
WHINSEC facilitated the exchange of ideas and best practices to better prepare for a potential joint response, promoting the importance of coordination and relationships to consolidate effectiveness.
"What we hope to achieve is to have interoperability, standardization and also transparency among processes," said Edwin Roldan, Director of the Department of Civil Military Studies at WHINSEC. "The more we share information and the more we establish relationships the better. Instead of having different directions we can join efforts and join forces to have interoperability and shared knowledge," said Roldan.
Sgt. 1st Class Raul Molina, Interagency Crisis Action Planning course director, emphasized that having these exchanges makes it easier for organizations to cooperate during a disaster and enhances their readiness, a key element of the US Southern Command lines of efforts.
Molina also highlighted how JTF-Bravo plays an important role in regional emergency response by cross training with firefighters from all across Central American during exercise CENTAM SMOKE, an exercise that focuses on interoperability and partnership by bringing different units together to work as a unified team.
"I spoke to the JTF Bravo firefighters and something they mentioned is that they train with the firefighters in Honduras so that they can work with them and how it's beneficial for them and it's beneficial for us. You are building capacity but you are also building or reinforcing a partnership that already exists, so I think the benefit overall is establishing those relationships that are going to have long term benefits for everyone," said Molina.
This was the first Interagency Crisis Action Planning conducted by WHINSEC in Honduras but the goal is to enhance it and to also involve senior leadership, to not only share ideas but to also create a discussion of how to improve current procedures, policies and programs and to develop the exchange into a regional multinational exercise.
"I think that the way it could evolve could be to involve more partner nations and neighboring countries; that would be ideal! If we can make it not just interagency but multinational I think would be great, the same way that CENTAM SMOKE involves multinational firefighters and builds their capacity and capabilities," said Molina.