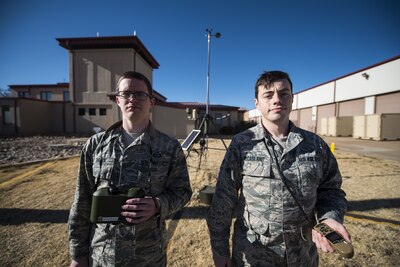 CANNON AIR FORCE BASE, N.M., Jan. 29, 2018 —
When Air Force pilots based here prepare for flight, they need the help of 27th Special Operations Support Squadron weather forecasters to contribute to their safety and mission success.
Air Force Staff Sgt. Joseph Klein, 27th SOSS weather forecaster, is one of those airmen who unlock the weather-related puzzle.
"We provide forecasts for the local area, as well as [other parts of] New Mexico, Colorado, Arizona and Texas," Klein said. "We also do resource protection. That way, if any bad weather is inbound on our location, we can alert units around base to ensure equipment doesn't get damaged."
Weather forecasters here work alongside pilots, using the latest technology to predict weather patterns, prepare forecasts and communicate weather information to pilots so every mission can be carried out.
Teamwork
"It helps that we work so close with aircraft crews," Klein said. "[In my previous bases], we didn't get too much face time with them. Here at Cannon, we're interacting with each other much more, and that's convenient for the pilots. We can provide verbal briefings quickly for the aircrews."
This constant communication is necessary in an environment as unique as eastern New Mexico, where dangerous weather conditions can pop up quickly, Klein said.
"[Wildfire] weather is a particular danger in the local area," he explained. "We have to remain cautious and vigilant on live-fire exercises at Melrose Air Force Range due to how dry the weather can be."
Quickly moving wildfires are a danger throughout the state. According to the New Mexico Energy Minerals and Natural Resources Department, about 118,000 acres were burned by wildfires in 2016, higher than the national average of 108,000 that year.
Tricky Weather Patterns
A cause for this can also be explained by a collision of weather fronts that presents a challenge to all weather forecasters across the state, especially Cannon's, Klein said.
"We're on what we call a dry line," he explained. "It's a unique feature to this part of the world. We get the front from the Gulf Coast pushing moisture west and the southwest front pushing dry air east, and where the two constantly collide is within the vicinity of Cannon. It's a danger to our pilots. We need to always be on the lookout for around late spring and early summer."
This combination of a high-pace mission and high-risk weather presents a challenge to weather forecasters like Klein, but it doesn't come without its enjoyable aspects, he said.
"The job is something different for me," he said. "Everyone thinks weather is entirely unpredictable, but we know how to find those subtle clues in forecasting. I like the challenge of that. It's sort of a puzzle to me."