This report originally published at southcom.mil.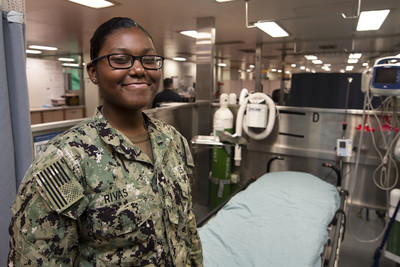 Nov. 26, 2018 — TURBO, Colombia (Nov. 22, 2018) – Since her sophomore year in high school, Michelle Tayas-Rivas has wanted to be a Hospital Corpsman.
"I was in the Junior Reserve Officer Training Corps in high school," said Tayas-Rivas. "I knew I was going to join the military, and it was between the Marines and the Navy. Since the Marines don't have a medical side, I chose the Navy."
Tayas-Rivas travelled a long way to get where she is now. She originally came to the United States from Panama at the age of two.
"I don't have memories of being in Panama when I was first born," said Tayas-Rivas. "I've gone back to visit family since leaving. When I visit, it feels like I'm back to my roots. It feels like I belong there."
Tayas-Rivas brings a unique skillset to the hospital ship USNS Comfort's (T-AH 20) mission. She is a corpsman who can directly translate patients' needs to the healthcare providers at the medical sites and aboard the ship.
"I always get pulled to translate for people while at the medical sites," said Tayas-Rivas. "Being a corpsman and a translator allows me to communicate with the patient directly and take care of them without going through another person."
Tayas-Rivas has helped in every host nation Comfort has visited during its mission to Central and South America.
"I'm very proud to be a part of this mission," said Tayas-Rivas. "I feel that the U.S. is making a huge difference in South America, and even though I'm only a small part of it all, I think I'm making a difference as well."
Comfort is on an 11-week medical support mission to Central and South America as part of U.S. Southern Command's Enduring Promise initiative. Working with health and government partners in Ecuador, Peru, Colombia and Honduras, the embarked medical team will provide care on board and at land-based medical sites, helping to relieve pressure on national medical systems caused partly by an increase in cross-border migrants. The deployment reflects the United States' enduring promise of friendship, partnership and solidarity with the Americas.
For more information, visit www.facebook.com/NAVSOUS4THFLT, www.dvidshub.net/feature/comfort2018, and www.navy.mil.
U.S. Southern Command (SOUTHCOM) reports are created independently of American Military News (AMN) and are distributed by AMN in accordance with applicable guidelines and copyright guidance. Use of SOUTHCOM and U.S. Department of Defense (DOD) reports do not imply endorsement of AMN. AMN is a privately owned media company and has no affiliation with SOUTHCOM and the DOD.