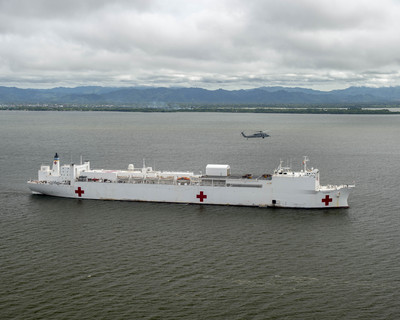 Nov. 16, 2018 —
PANAMA CITY, Panama (NNS) — Hospital ship USNS Comfort (T- AH 20) transited the Panama Canal, Nov. 11, following a two-day port visit in Panama City.
Comfort is headed north to Turbo, Colombia, for the third of its five mission stops. Having completed mission stops in Esmeraldas, Ecuador and Paita, Peru, the crew has already treated 10,224 patients with general medical, dental and optometry needs as part of the U.S. Southern Command's 2018 Enduring Promise initiative.
"Comfort's visit to Panama City was multi-purposed," said Command Senior Chief Cory Anglin, senior enlisted leader of Comfort. "This scheduled stop was an opportunity for the team to host our Panamanian partners aboard the ship for tours of medical spaces and also allowed us access to local contractors to restock, refuel and, of course, give Sailors a well-deserved pause for liberty off the ship before we head into the second half of the mission."
While Comfort was in port this past Friday and Saturday, senior government officials in Panama including Marcelo Lucco, ambassador of Argentina in Panama, and Ambassador Alejandro Daneri, president of Argentina's White Helmets Commission, embarked the hospital ship to tour medical spaces, speak with U.S. Navy leadership and learn more about the medical assistance mission.
"The Comfort deployment is all about building relationships," said Capt. William Shafley, commander, Task Force 49. "Bringing our partners out here to see what the U.S. Navy does, how we are integrating non-governmental organizations such as the White Helmets Commission, not only strengthens our existing ties in the region, but it opens new lines of communication."
Ambassador Daneri also provided remarks to the crew while aboard. "Thank you very much to the United States, we are very pleased with the cooperation, these humanitarian tasks," said Daneri. "It's a good partnership."
U.S. Navy Deputy Surgeon General Rear Adm. Terry J. Moulton also visited Comfort during his concurrent trip to Panama. In an all-hands call delivered to the crew, he highlighted the work of the medical corps in Ecuador and Peru.
Comfort is on an 11-week medical support mission to Central and South America as part of U.S. Southern Command's Enduring Promise initiative. Working with health and government partners in Ecuador, Peru, Colombia and Honduras, the embarked medical team will provide care on board and at land-based medical sites, helping to relieve pressure on national medical systems caused partly by an increase in cross-border migrants. The deployment reflects the United States' enduring promise of friendship, partnership and solidarity with the Americas.
For more information, visit www.facebook.com/NAVSOUS4THFLT, www.dvidshub.net/feature/comfort2018, and www.navy.mil.