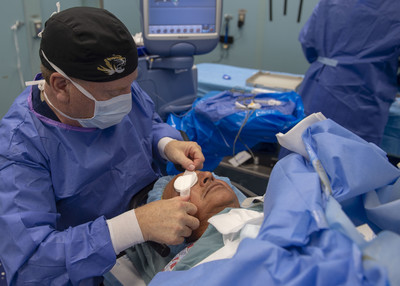 Nov. 9, 2018 —
ESMERALDAS, ECUADOR (NNS) — Wheels from the gurney screeched down a dimly lit corridor in route to the operation room. On the gurney, an older man lay nervous and eager as he anticipates a life changing surgery that will restore one of his senses that was taken away from him; his sight. He has traveled far, yet endured far more, seeking this moment that was previously unavailable to him. This moment offered in the most unlikely of places, on the ocean in a white vessel with giant red crosses on its hull.
Carlos Ramos, 59, from the coast of Pisorja, Ecuador, traveled seven hours with a friend to Esmeraldas, where the hospital ship USNS Comfort (T-AH 20) was located, to pursue cataract surgery on his eye that he needed to improve his eyesight.
"I found out about this thanks to my brother, who told me it was on the news and radio stations that an American hospital ship was coming to us," said Ramos, translated from Spanish. "At first, I was hesitant to come but we knew that I didn't have the resources to take care of my eye on my own, so I decided to go for the opportunity."
Upon arriving in Esmeraldas, Ramos began the process to receive the eye surgery by going to one of the two medical sites that were established to provide on-site care and also screen patients for surgery aboard the ship.
"I came to the hospital ship after being screened by the ship's medical staff," said Ramos. "Myself and about six other men scheduled for surgery departed at about 6 p.m. in the boats. The next day at around 9 a.m., I went into my surgery."
A cataract is the clouding of the normally clear lens of an eye. For people who have cataracts, it impairs their vision as if looking through a fogged window. In Ramos' case, he couldn't see anything. Dr. John Jarstead, an ophthalmologist and professor who teaches cataract surgery to medical students at the University of Missouri, performed the surgery on Ramos and removed a cataract nearly the size of a dime.
Jarstead said that him and his team of military and civilian medical staff couldn't use the modern method of breaking up the cataract with an ultrasound and remove it in smaller pieces because of its density.
"It was a very dense cataract, he could barely see light and dark," said Jarstead. "We did a manual small incision cataract surgery on him. It's not done that commonly in the United States because we don't see cataracts that are that old and hard. It went really well. We were able to get the cataract out in one piece and we only had to put in one stitch."
The following day, the doctors removed the bandage on Ramos's eye and for the first time in many years, he could see again. Ramos was overjoyed and gracious for the opportunity afforded him.
"The military doctors that have helped me are very well disciplined and great people," said Ramos. "I'm thankful and honored to be on this ship. I was taken care of very well. They treated us all like family. This was an excellent experience. They checked up on me every hour to make sure my vitals were okay and I was feeling well. I'm thankful for the treatment I received."
Ramos and the other patients embraced their doctors and staff, and said goodbye as they were ferried back to Esmeraldas revived by the care they received.
Comfort is on an 11-week medical support mission to Central and South America as part of U.S. Southern Command's Enduring Promise initiative. Working with health and government partners in Ecuador, Peru, Colombia and Honduras, the embarked medical team will provide care on board and at land-based medical sites, helping to relieve pressure on national medical systems caused partly by an increase in cross-border migrants. The deployment reflects the United States' enduring promise of friendship, partnership and solidarity with the Americas.

For more news from U.S. Naval Forces Southern Command & U.S. 4th Fleet, visit www.navy.mil/local/cusns/.