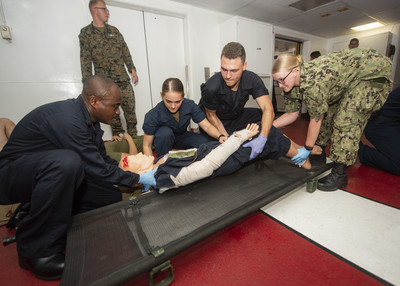 Oct. 16, 2018 — ATLANTIC OCEAN (Oct. 13, 2018) – Doctors, nurses and other embarked medical personnel aboard the hospital ship USNS Comfort (T-AH 20) conducted a mass casualty training exercise in preparation for visiting medical sites in Central and South America, Oct. 13, 2018.
The exercise tested the Comfort's crew in mass casualty triage, care and first-aid practices. Participants included multi-service members, partner nation service members and mission volunteers.
"A mass casualty event, by nature, is chaotic," said Lt. Jessie Paull, a general surgery resident embarked on Comfort. "Being able to practice, it gets your nerves under control."
The event started on the flight deck of the ship and continued down to Comfort's casualty receiving area.
"Getting the team squared away is essential to execute this mission during a real event," said Paull.
The exercise included various medical procedures including basic medical triage techniques, blood tests and computed tomography (CT) scans.
"This is exactly what I would hope to see coming from a group of professionals on, essentially, day three of our mission," said Capt. William Shafley, commander, Task Force 49.
Comfort is on an 11-week medical support mission to Central and South America as part of U.S. Southern Command's Enduring Promise initiative. Working with health and government partners in Ecuador, Peru, Colombia and Honduras, the embarked medical team will provide care on board and at land-based medical sites, helping to relieve pressure on national medical systems caused partly by an increase in cross-border migrants. The deployment reflects the United States' enduring promise of friendship, partnership and solidarity with the Americas.
For more information, visit www.facebook.com/NAVSOUS4THFLT, www.dvidshub.net/feature/comfort2018, and www.navy.mil.