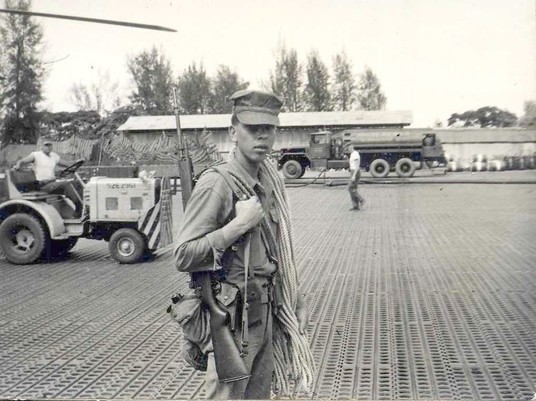 FORT MEADE, Maryland —
Harvey P. Pratt's Warriors' Circle of Honor design was selected to be constructed next to the Smithsonian NMAI.
Pratt, a U.S. Marine Corps veteran, is a Southern Cheyenne chief for the Southern Cheyenne and Arapaho Tribes of Oklahoma.
"I can't believe it will be one of the 12 national memorials in Washington, D.C.," said Pratt.
Pratt's design incorporates many different traditions and beliefs of the Native Peoples, to promote inclusivity among all tribes.
"The sacred circle represents heaven, earth and the pathway followed by honor-bound Native People," said Pratt. "Wind spirits can pass through the stainless-steel sacred circle. Water, fire and the drum are the central design elements within the circle. Water represents purity, prayer, cleansing and reflection, flowing over the drum; water softly pulses over circular ridges, suggesting vibrations of voice and drumbeat in a Kasota limestone basin. Fire symbolizes strength, courage, endurance and comfort. The drum is the heartbeat of the memorial and connects all the elements.
"The outer wall is comprised of four sections. It provides an outer perimeter and allows private meditation space on the interior benches. Legacy footprints are integrated along the outer walkway and represent warriors of the past, present and future; white (beginning), red (power of the Creator), yellow (Mother Earth), black (ancestors). The warriors traditional red road, made of red stone surrounding the outer wall, represents the way of life leading to harmony. Visitors and guests can tie prayer cloths at the base of the four lances for their loved ones. The wind will send the prayers to the Creator."
According to the NMAI website, Congress passed legislation to allow NMAI to create a National Native American Veterans memorial in 1994. The memorial had to be located inside the museum, no federal funds could be used, and only the National Congress of American Indians was allowed to raise funds. In 2013, Congress amended the legislation to allow the memorial to be located on the NMAI grounds and allow the museum to raise funds for the memorial.
The NMAI formed an advisory committee for the memorial, and from 2015 to 2017, the committee sought input and support for the memorial from tribal leaders, Native veterans and Native community members. From these inputs, the committee created a design competition in November of 2017 with these guiding principles: "… the memorial should honor the interrelated elements of culture, spirituality, sacrifice, place, valor, healing, future service members, and the legacy of veterans past. Design concepts should address balance, inclusivity, respect, sustainability, endurance, accessibility, and interpretation of memorial elements."
There are currently more than 25 Native American Veteran memorials located throughout the United States. Groundbreaking is slated for Sept. 21, 2019 and the dedication of the National Native American Veterans Memorial is scheduled for Veterans Day, Nov. 11, 2020.
For more information on the National Museum of the American Indian or the National Native American Veterans Memorial, visit http://nmai.si.edu/nnavm/.