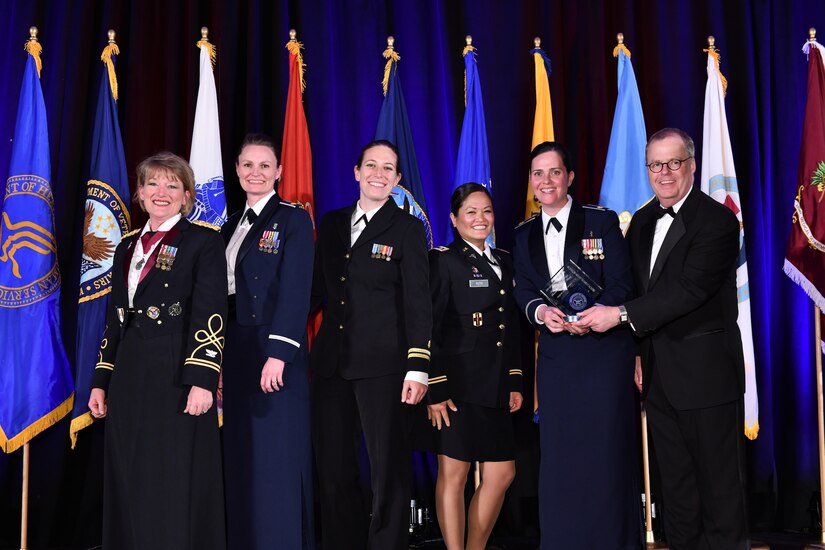 MACDILL AIR FORCE BASE, Fla., Feb. 3, 2020 — USCENTCOM Medical Treatment Facilities earned a prestigious 2019 Advancement Toward a High Reliability (HRO) Healthcare Award at a ceremony during the annual meeting of AMSUS, the Society of Federal Health Professionals in National Harbor, Maryland, Dec. 5, 2019.
The Advancement toward a High Reliability in Healthcare Award program recognizes those who have shown initiative and commitment to organizing around HRO principles, including developing systems and processes that promote a safer, higher quality system while encouraging learning, sharing, and continuous improvement. Awards are presented in the subcategories; Healthcare Quality, Patient Safety, Improved Access, and Patient Engagement.
Out of 101 total applicants, USCENTCOM's "Update on Infection Prevention and Control (IPC) in Deployed Medical Treatment Facilities (MTF)" initiative was one of nine recognized for a Patient Safety award.
It's objective aims to provide deployed healthcare teams with site assessment assistance, review practices and identify any needs or successes of individual teams. It also provides on- the-spot education and risk mitigation, and identifies common patterns or trends that may require system-wide action.
"Infection prevention and control is challenging in the deployed environment, making it so much important to have enduring processes in place, along with a mechanism of enforcement, to ensure these important actions don't get lost over time," said U.S. Air Force Col. Scott J. Calder, USCENTCOM's Command Surgeon.
Due to the initiative, individual MTFs made improvements in healthcare associated infections and mentored untrained personnel. A theater-wide IPC clinical operating procedure was created, a logistics assessment was performed, pre-deployment identification of IPC personnel has improved, and a curriculum is planned for pre-deployment training.
The article "Update on Infection Prevention and Control in Deployed Medical Treatment Facilities" was also published in the Military Medicine journal, reaching over 5000 subscribers in 37 countries.
The USCENTCOM Clinical Operations Team which consists of members from Army, Navy and Air Force headquarters elements, and Medical Treatment Facilities in the USCENTCOM theater all work together to ensure quality and safety of all deployed.
"It was truly impressive to see level of Joint support from the clinical operation team who performed the visits, as well as the vigorous engagement of the healthcare teams who participated at each location and continue to actively support the USCENTCOM wide infection prevention and control program," said Calder.
"Our Military Health System (MHS) is the envy of the world – and that's because of our people," said Tom McCaffery, Assistant Secretary of Defense for Health Affairs. "They make everything we do possible, from unmatched battlefield care to world-class health care for our beneficiaries at home. These award winners exemplify the excellence that the men and women of the MHS display every day."