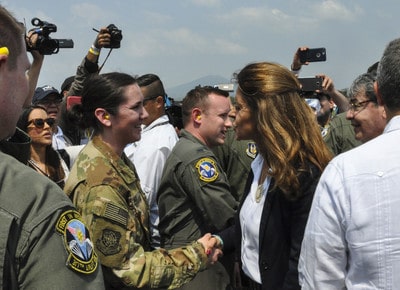 CUCUTA, COLOMBIA (AFNS), Feb. 25, 2019 — A group of reservists from the 315th Airlift Wing from Joint Base Charleston, South Carolina, delivered humanitarian aid Friday, Feb. 22, which will benefit the people of Venezuela.
The C-17 Globmaster III touched down in Cucuta, just a mile and a half from the Venezuelan border and was met by Colombian President Ivan Duque and Vice President Marta Lucia-Ramirez.
"Today, you may have helped changed the world," said President Duque as he spoke to the C-17 crew from JB Charleston about international efforts to feed and provide care for the people of Venezuela. "You are helping more people than you could possibly know."
The shipment consisted of 49,580 pounds of rice and 12,100 pounds of medical equipment that will be distributed to the people of Venezuela. This is the third humanitarian aid shipment delivered to the region by JB Charleston partners, the 315th and 437th Airlift Wings.
According to the U.S. State Department, the flights contained enough rice to feed an estimated 2,000 people for one month, along with medical supplies consisting of wheelchairs, crutches, bandages and exam gloves.
"As an American, I am proud and honored to be part of this joint effort to deliver humanitarian aid to Colombia for the people of Venezuela on behalf of the United States," said Maj. Amanda Gierhart, mission commander and pilot from the 317th Airlift Squadron. "These are some of the most rewarding missions we fly, where we see how the generous donations from our country directly impact the lives of those suffering around the world," she said.
The relief supplies are being pre-positioned in Colombia as part of a surge of U.S. humanitarian assistance that began earlier this month at the request of Interim Venezuelan President Juan Guaido.
According to a U.S. State Department release, "the United States remain committed to helping the people of Venezuela, and this assistance is not the first – and will not be the last – that the American people are sending to help those in need." The release also states, the U.S. has provided more than $140 million in aid to the Venezuelan people and more than 3.4 million people have fled the chaos in the impoverished nation.
On Jan. 24, Secretary of State Pompeo announced the U.S. is ready to provide more than $20 million in additional funding to support humanitarian assistance activities in Venezuela.
A flying crew chief from the 437th AW accompanied the Reserve aircrew on the mission.
Editor's note: Michael Dukes, 315th Airlift Wing Public Affairs contributed to this article. For more behind the scenes photos and videos from this mission, see the 315th Airlift Wing on social media @315 AW.