This report originally published at southcom.mil.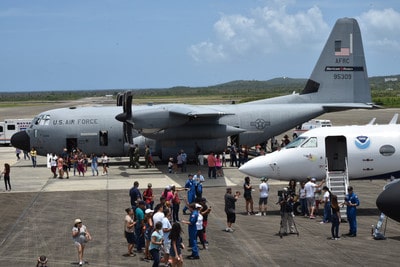 KEESLER AIR FORCE BASE, Miss., April 2, 2019 —
With the 2019 hurricane season fast approaching, NOAA and the U.S. Air Force Reserve will host a series of events, including tours aboard the hurricane hunter aircraft, to help communities in Mexico and the Caribbean prepare for the season and the coming storms.
National Hurricane Center Director Ken Graham and several federal hurricane specialists will visit with residents of vulnerable communities and discuss hurricane preparedness, resilience and how they can become "weather-ready." Tours of the Air Force Reserve Command's WC-130J "Hurricane Hunter" will offer an opportunity to learn how scientists collect hurricane information. The NOAA WP-3D aircraft, used for both hurricane forecasting and research, will be on display as well.
"It's so important to know your risk to the specific hurricane hazards, whether its coastal storm surge, freshwater inland flooding or high winds," said Graham. "Every storm is different."
Locations and local times for public tours are:
•April 8, 10 a.m. to 2 p.m. – Veracruz International Airport, Veracruz, Mexico
•April 9, 10 a.m. to 2 p.m. – Cozumel International Airport, Cozumel, Mexico
•April 10, 8:30 a.m. to 2 p.m. – Juan Santamaria International Airport, San Jose, Costa Rica
•April 11, 10 a.m. to 2 p.m. – Queen Beatrice International Airport, Aruba
•April 12, 10 a.m. to 2 p.m. – Curacao International Airport, Curacao
•April 13, 10 a.m. to 5 p.m. – Rafael Hernández Airport, Aguadilla, Puerto Rico
During hurricanes, military aircrews fly state-of-the-art WC-130J aircraft directly into the core of tropical cyclones to gather data that are critical for forecasting a hurricane's intensity and landfall. The data is sent in real time via satellite from the aircraft directly to NOAA's National Hurricane Center for analysis and use by hurricane forecasters.
"Planning ahead is important for everyone; individuals, businesses and local governments," said Lt. Col. Kaitlyn Woods, 53rd Weather Reconnaissance Squadron chief meteorologist. "We gather this weather data to assist the National Hurricane Center forecasters with their storm track and intensity forecasts ensuring the public has the most up to date information so they can make the best decision for them and their families, to stay or evacuate."
Also participating in the tour will be senior hurricane specialists Lixion Avila and Daniel Brown from the National Hurricane Center; U.S. Air Force Reserve Citizen Airmen from the 403rd Wing's 53rd Weather Reconnaissance Squadron at Keesler Air Force Base, Mississippi; and the flight crew of NOAA's WP-3D stationed at Lakeland Linder Airport, Lakeland, Florida.
The eastern North Pacific hurricane season officially begins May 15 while the central North Pacific and Atlantic basin hurricane seasons begin June 1.
Mexico and Caribbean Hurricane Awareness Tour 2019 – Spanish
Media contacts:
Dennis Feltgen, NOAA, 305-229-4404
Lt. Col. Marnee A.C. Losurdo, U.S. Air Force Reserve, 403rd Wing, 228-377-2056
U.S. Southern Command (SOUTHCOM) reports are created independently of American Military News (AMN) and are distributed by AMN in accordance with applicable guidelines and copyright guidance. Use of SOUTHCOM and U.S. Department of Defense (DOD) reports do not imply endorsement of AMN. AMN is a privately owned media company and has no affiliation with SOUTHCOM and the DOD.