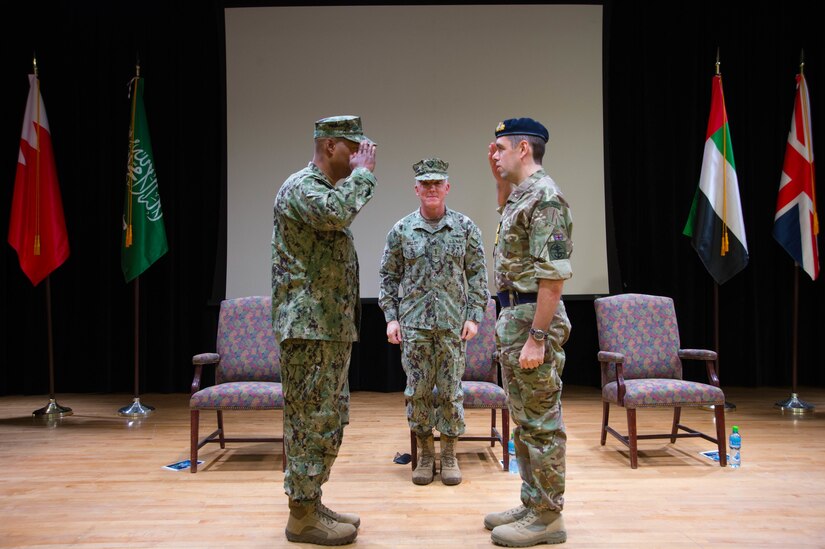 Jan. 30, 2020 —
MANAMA, Bahrain – The leadership of the International Maritime Security Construct (IMSC) was transferred from the United States to the United Kingdom during a ceremony at the U.S. Naval Support Activity, Bahrain, today.
"We gather to mark the first change of command of Coalition Task Force (CTF) Sentinel. This team of trailblazers and its commander, Rear Adm. Alvin Holsey, have been hard at work over the last few months, building an operational team, coordinating operations, patrolling the seas, sending messages of assurance to allies, and demonstrating the international community's commitment to the security of this critical region," said Vice Adm. James Malloy, Commander U.S. Naval Forces Central Command / Commander, U.S. Fifth Fleet.
In November of 2019, CTF Sentinel was formed under the IMSC and established by CTF's first appointed commander. Participating nations include Albania, Australia, Bahrain, Kingdom of Saudi Arabia, United Arab Emirates, United Kingdom and United States.
"Looking around the room today, I see a diverse group of people representing seven nations, who've built IMSC into what it is today," Holsey said. "That diversity of knowledge and experience makes us who we are. It makes our team strong. From a deep understanding of the culture, the waters, seamanship, to international shipping expertise, IMSC brings our strengths together."
The IMSC was established to deter malign activity, promote maritime security and stability, plus ensure freedom of navigation and free flow of commerce in international waters throughout the Arabian Gulf, Strait of Hormuz, the Bab el-Mandeb Strait and the Gulf of Oman.
"Sitting in my office two months back, the First Sea Lord promised he would send the very best, a seasoned, combat experienced officer with significant regional tours under his belt – and he was true to his word!" said Malloy.
Commodore James Parkin of the Royal Navy joins CTF Sentinel with a distinguished professional record. He commands the Royal Navy's Littoral Strike Group based at Royal Marine Barracks Stonehouse in Plymouth.
"The IMSC is committed to ensuring the safety of shipping in the Gulf region, which contains some of the most important choke points in the world. We recognize the importance of freedom of navigation and will ensure it is upheld with its seven member nations," said Parkin.