This report originally published at southcom.mil.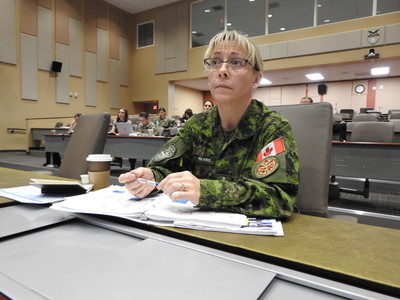 Dec. 10, 2018 —
MIAMI – The U.S. Joint Staff, in conjunction with U.S. Southern Command (USSOUTHCOM), conducted the second U.S. Department of Defense Operational Gender Advisor (GENAD) Course (OGC) at the Conference Center of the Americas in Doral, Florida, Dec. 3-7.
Students who successfully complete the OGC, which provides joint credit to graduates, are qualified to serve as Gender Advisors (GENADs) on a staff, in operations and exercises.
"Ultimately, this course is about making us more operationally effective," said U.S. Navy Adm. Craig Faller, commander of USSOUTHCOM, emphasizing the importance of integrating gender perspectives in the military.
Adm. Faller, who assumed command Nov. 26, says advisors must have the trust of their leaders and emphasizes collaboration is needed to achieve collective goals.
GENADs are key advisors to commanders, helping planners and staff identify how gender effects military operations and helping to integrate gender perspectives into operations and plans.
The in-residence course supports the mandate for training required by the Women, Peace, and Security (WPS) Act of 2017 and the U.S. National Action Plan on WPS.
U.S. initiatives in this area also support landmark United Nations Security Council Resolution 1325 unanimously adopted in 2000.
The UN resolution acknowledges the inordinate effect of conflict on women and girls and recognizes the pivotal role of women in promoting lasting peace and security. Subsequent supporting resolutions also address gender-based violence in conflict, to include men and boys.
Australian Army Lt. Col. Brad Smith assigned as a strategic planner at U.S. Indo-Pacific Command (USINDOPACOM), graduated the Australian Defence Force's Operational GENAD Pilot Course in 2017.
"A gender perspective not only provides a more holistic picture of the operational environment, it also helps save lives, time, and resources."
Lt. Col. Smith was a lead developer for the inaugural U.S. course, hosted by USINDOPACOM in June.
U.S. Air Force Maj. Monica Herrera, assigned to the Directorate of Strategy, Plans, and Programs at U.S. Headquarters Pacific Air Forces, served as a GENAD on a bilateral exercise in 2017 and taught both U.S. courses.
"This is a capability some of our allies and partners have already been integrating into exercises and operations. Hosting a U.S. OGC ensures we can train U.S. and allied personnel to meet the growing demand in this area."
U.S. Navy Lt. Andrea N. Goldstein, currently serving as deputy Gender Advisor at NATO Allied Command Transformation, supports both NATO and the U.S. DoD on integrating gender perspectives into policy, plans, and operations.
"There has long been a U.S. presence within NATO on supporting this strategic capability. Offering this course within the U.S. is the next logical step," says Lt. Goldstein.
NATO's Bi-Strategic Directive 40-1, initially released in 2012 and revised in 2017, serves as the Alliance's policy for implementation of a gender perspective in military operations.
Dr. Beth Lape, the Course Manager from the Joint Staff, indicates the OGC will be presented in other regional areas, to include U.S. European Command and U.S. Africa Command, as part of the training required by the WPS Act.
This course iteration includes 20 military and civilian students; five men and 15 women, 11 from USSOUTHCOM and nine from outside organizations, including one international student from the Canadian Army.
U.S. Southern Command (SOUTHCOM) reports are created independently of American Military News (AMN) and are distributed by AMN in accordance with applicable guidelines and copyright guidance. Use of SOUTHCOM and U.S. Department of Defense (DOD) reports do not imply endorsement of AMN. AMN is a privately owned media company and has no affiliation with SOUTHCOM and the DOD.