This report originally published at southcom.mil.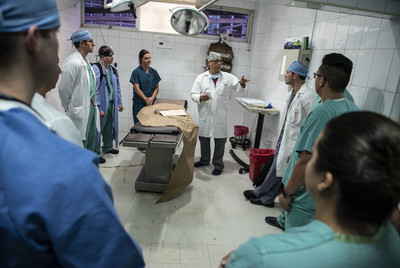 SOTO CANO AIR BASE, HONDURAS, Nov. 30, 2018 — Soldiers assigned to Joint Task Force-Bravo Medical Element and Regional Health Command began assisting a San Pedro Sula hospital in late November.
The visit is part of a reoccurring mission to help the busy emergency and operating rooms by providing additional medical personnel to treat patients.
"At San Pedro, most of the care that we do in the OR are appendectomies, open cholecystectomies and traumas," said Capt. Suzanne Han, MEDEL OR nurse, "(In the ER) they do a lot of the resuscitations when the patients are brought in by the ambulance. They help get them to a stable position, figure out what's going on with the patient and then if they need surgery they come over to us."
By supporting the hospital, the Army teams also gain valuable experiences they may not be able to get anywhere else while building teamwork and enhancing their medical knowledge.
"I think it's beneficial because we're learning how to move equipment, how to pack, carrying what we need and what we can do with the limited resources that we have," said Han. "I think it's more beneficial to the teams who are coming out to train because these are the people who will be going on to further deployments so it's important for them to pull together as a team and know how they work together."
Han added that their missions are also helpful to the hospital staff because they relieve some of the pressure when the ER and OR are busy.
For this particular visitation, RHC medical professionals accompanied MEDEL, however the secondary team varies to allow an array of different crews to gain knowledge and enhance their abilities.
Capt. Eric Bracamonte, RHC emergency nurse, said that nurses and medics do not have many opportunities to gain trauma experience stateside and that he believes being on this mission will make him a better nurse.
Since March, the team has attended to approximately 210 cases providing life-saving care and improving the quality of life for many. These operations further serve to prove JTF-B's lasting dedication to stabilizing and providing aid to the region as well as the communities in its host nation of Honduras.
U.S. Southern Command (SOUTHCOM) reports are created independently of American Military News (AMN) and are distributed by AMN in accordance with applicable guidelines and copyright guidance. Use of SOUTHCOM and U.S. Department of Defense (DOD) reports do not imply endorsement of AMN. AMN is a privately owned media company and has no affiliation with SOUTHCOM and the DOD.