This report originally published at defense.gov.
The military is seeking to be more lethal in all domains, including space, and U.S. Northern Command will have to change to meet the challenges of the future, Defense Secretary James N. Mattis said.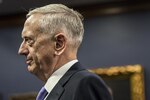 U.S. Department of Defense (DOD) reports are created independently of American Military News (AMN) and are distributed by AMN in accordance with applicable guidelines and copyright guidance. Use of DOD reports do not imply endorsement of AMN. AMN is a privately owned media company and has no affiliation with the DOD.