This report originally published at southcom.mil.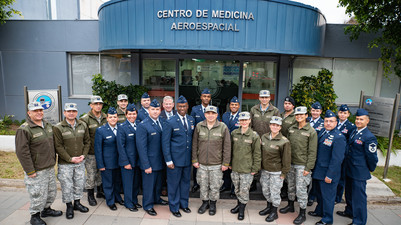 SANTIAGO, Chile , June 18, 2018 —
U.S. medical personnel from across the Air Force held a health services administration subject matter expert exchange with the Chilean air force at Hospital Clínico, Santiago, June 4-8.
U.S. Air Force military health specialists from Davis-Monthan Air Force Base, Joint Base McGuire-Dix-Lakehurst, Joint Base Andrews, and 12th Air Force (Air Forces Southern) joined with their Chilean air force counterparts to conduct the exchange. Participants held briefings, led discussion sessions and participated in informal talks on how best to administer health services to patients.
The engagement is an important milestone in the relationship between the U.S. and Chile, as the mission marks the first time the U.S. and Chilean air force have conducted a health services administration subject matter expert exchange.
U.S. Air Force Lieutenant Colonel Lisa Guzman, medical services administrator, Joint Base McGuire-Dix-Lakehurst, N.J., says the exchange is an important opportunity to strengthen the relationship between the U.S. and Chile.
"These types of exchanges are important because we have an opportunity to continue to build those partnerships with nations, foster support and friendships, and find ways to be more interoperable," said Guzman. "From our aim, we benefit from having a better understanding of what processes (the Chilean air force) currently has in place and be better able to communicate in the future."
The four-person U.S. team toured Chilean air force medical facilities and asked questions about Chilean air force medical practices and procedures. Members of both countries emphasized the exchange allowed them to better understand one another and would ultimately lead to better care for patients.
"The diverse group that works in health services must know what others in their career field are doing to be better prepared for possible emergencies," said Ximena Garcia Astorquiza, Chilean air force Group Commander and general practitioner. "I think the fundamental part of these exchanges is getting to know each other. More than a professional sense, getting to know people on a human level."
Both parties emphasized the importance of working together to accomplish shared goals.
"It's important to establish the necessary confidence with one another," Astorquiza said. "Because working together, problems are solved faster and with more efficiency, independent of where in the world you are coming from."
U.S. Southern Command (SOUTHCOM) reports are created independently of American Military News (AMN) and are distributed by AMN in accordance with applicable guidelines and copyright guidance. Use of SOUTHCOM and U.S. Department of Defense (DOD) reports do not imply endorsement of AMN. AMN is a privately owned media company and has no affiliation with SOUTHCOM and the DOD.