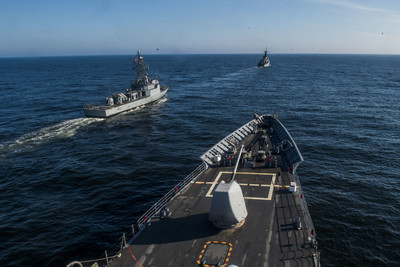 April 20, 2018 —
CALLAOU, Peru (NNS) — Silent Forces Exercise (SIFOREX) 2018 began in Lima, Peru Apr. 16. Peru is hosting naval forces from the United States and Colombia for the biannual exercise.
SIFOREX is a naval exercise that focuses on anti-submarine warfare (ASW) proficiency. It provides a unique opportunity for U.S. Naval forces to conduct ASW operations against multiple diesel submarines in a complex environment.
The primary focus of SIFOREX is ASW operations, but the exercise will also provide some events in surface warfare, maritime interdiction operations and search and rescue.
Participants from the U.S. include personnel assigned to U.S. 4th Fleet and Destroyer Squadron 40, USS Lake Champlain (CG 57), three P-8A Poseidon maritime patrol aircraft from Patrol Squadrons (VP) 16 and 26 and one MH-60R helicopter from HSM 78.
This year SIFOREX will boast additional submarine participation from Colombia who is providing a Type-209 submarine to conduct exercise operations and will have observers from the Brazilian and Argentinian navies.
"Conducting these types of exercises is critical," said Cmdr. Mark Yehl, lead planner for SIFOREX 2018. "We can always expect maximum effort from our crews at sea, but one often overlooked aspect is the logistics that go into each exercise we do. Being able to identify problems and create solutions is critical for smooth operations, both in exercises and real-world situations."
SIFOREX has been a routine exercise since 2001, becoming a biannual exercise in 2006, occurring every even year since.
U.S. Naval Forces Southern Command/U.S. 4th Fleet (USNAVSO/FOURTHFLT) fulfills the maritime role within U.S. Southern Command's joint and combined military operations. USNAVSO/FOURTHFLT employs maritime forces in cooperative maritime security operations to maintain access, fortify the ability of U.S. forces to work together with partner nations, and build enduring partnerships with the ultimate goal of enhancing regional security and promoting peace, stability, and prosperity in the Caribbean, Central and South American regions.
For more news from U.S. Naval Forces Southern Command & U.S. 4th Fleet,visit www.navy.mil/local/cusns/.
For more information, visit www.navy.mil, www.facebook.com/usnavy, or www.twitter.com/usnavy.