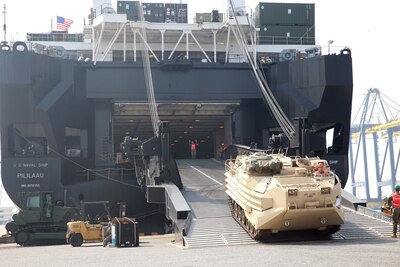 WASHINGTON, April 10, 2018 —
U.S. Transportation Command remains a critical element in national capability, but challenges exist in an evolving security environment, Transcom's commander told lawmakers today.
"I can say with full confidence that today U.S. Transcom stands ready to deliver on behalf of national objectives anywhere at any time," Air Force Gen. Darren W. McDew said at a Senate Armed Services Committee hearing on Transcom's posture.
The command, headquartered at Scott Air Force Base, Illinois, provides a broad range of strategic capabilities and options, he said. It is the Defense Department's single manager for global air, land and sea transportation.
"We move and sustain the joint force, but we're also responsible for operating the expansive joint deployment and distribution enterprise," the general explained.
Transcom, which was established in 1987, is a unified, functional combatant command that provides a robust strategic mobility capability across the globe using people, trucks, trains, railcars, aircraft, ships, information systems and infrastructure, and commercial partners.
"U.S. Transcom has been successful for 30 years, but the nation is at an inflection point, and we must evolve to remain viable in the future," McDew noted. "Volatile geopolitics, shifting demographics and emerging technologies are changing the character of war."
Foundational to National Defense
Transcom's role in projecting and sustaining power is the cornerstone of the joint force's efforts to meet national policy objectives, McDew told the committee. The ability to project a decisive force, he said, is foundational to the National Defense Strategy.
But as efforts are refocused on great power competition, the potential exists for challenges to America's democratic values and security, McDew said. He stressed the importance of prioritizing readiness and modernization to assure the nation's strategic advantage of the future. As lethality increases across the joint force, the resources necessary to transport and sustain America's military must keep pace, he said.
"The size and lethality of the force is of little consequence if we can't get it where it needs to go when it needs to get there," he said.
Challenges in Security Environment, Resources
In addition to challenges in the physical domain, McDew noted concerns about malicious activities in the cyber domain.
"Our adversaries no longer have to stop us with bombs and bullets," he said. "All they have to do is slow us down with 1s and 0s."
He described cyber as the "challenge of our time," adding that the nation must grow in that domain to "protect ourselves and protect each other."
McDew discussed other challenges, including concerns with Transcom's mission to move patients from the battlefield.
"While U.S. Transcom operates the most robust patient movement system in the world, we lack sufficient capacity to surge for large-scale conflict," he said. "The combination of a number of factors decreases the likelihood that we'll see the same high survival rates we've seen in the more recent conflicts."
Predictable Funding, Modernization Needed
The general thanked lawmakers for supporting the command and underscored the importance of modernization and predictable funding.
"As we look to the future, contested domains and fiscal uncertainty present a threat to the viability of the [Joint Deployment and Distribution Enterprise]," he said. "If we fail to address a number of these challenges in the coming years, the strength on which the nation has historically relied will no longer be there when needed."
He outlined to lawmakers issues with capacity, availability and proficiency within the command's air, land and sea components. Additionally, he called for shoring up commercial industry's capacity and security gaps, as well as providing the necessary resources to rebuild readiness and modernize the mobility force.
Further, McDew highlighted the work of the men and women of his command, saying they provide an unparalleled expeditionary capability and underwrite the nation's ability to rapidly respond to emerging crises.
(Follow Lisa Ferdinando on Twitter: @FerdinandoDoD)