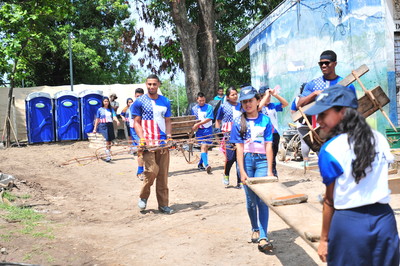 June 19, 2018 —
ZACATECOLUCA, El Salvador – Service members with Combined Joint Task Force – Hope, Operation Beyond the Horizon 2018, El Salvador, attended a Friendship Day celebration at one of its construction sites on June 15.
The U.S. Embassy in El Salvador hosted the event and was the second annual celebration to date.
Beyond the Horizon 2018 is a multi-agency training operation that promotes regional partnerships, cooperation, and coordination among military organizations, governments, and non-governmental agencies while conducting civic action programs and providing focused humanitarian assistance.
Tobias Bradford, the public affairs counselor for the U.S. Embassy, El Salvador, co-hosted the event with U.S. Ambassador in El Salvador Jean Elizabeth Manes, who was in attendance and toured the site during the celebration.
"This event is part of our U.S. – Salvadoran Friendship day festivities. The 15th of June is the day that is officially recognized by both governments as the day of U.S. and Salvadoran friendship," said Bradford.
He said that the U.S. embassy was looking for a location to celebrate Friendship Day with Embassy colleague volunteers, Service Members with Task Force Hope, and the local community.
"This is a school site in the area of Zacatecoluca," he said. The area both has much crime, is very poor and has a local community that is willing to get involved in finding a way on how to improve it.
Capt. John Haskell commands the BTH 2018 civil affairs team, assigned to the 413th Civil Affairs Battalion, U.S. Army Reserves, Lubbock, Texas, helped organize the event.
Haskell said there are three other school worksites BTH 2018 is working on as well as the location at Friendship Day. One site, like the one at San Marcos De La Cruz, is an addition to an existing structure. The other two are completely new schools where an existing school no longer exists or was moved. Additionally, there is another building site where BTH 2018 is building a free-standing addition to a medical clinic.
"The military is trying to source all the [building] materials locally if possible," he said. "We have reached out to 16 non-government organizations (NGOs) in the greater San Salvador area."
He said the NGOs are providing drinking water and physicians for medical readiness training exercises and school supplies such as desks and furniture for the future schools to make sure students can immediately use them after the U.S. Forces have left.
"It was very humbling," said Airman 1st Class Marvin Blood, a security forces airman, assigned to the 138th Fighter Wing, Oklahoma Air National Guard. BTH 2018 was the first time the young Airman had ever been outside the United States.
He took part in the Friendship Day event and assisted in the clean up around the school grounds along with local volunteers, embassy workers, and the school children.
"I had a friend translating for me, and it was very great to be able to speak to some of the kids that were there," Blood said.
"We helped clear a lot of the debris from the old building that was around," he said. There were piles of old sheet metal and other garbage littered around the original school building.
"Everybody was helping out; it was awesome," he said. "It's so much better now. The cleanup benefits the children because it teaches them to respect the building, so they can continue to use it for a long time. I respect what I have back home a lot more now."
"Salvadorans want to see our partnership have a concrete impact in their lives," said Bradford. "If there is anything that is going to make a difference for the future of Salvador, it's going to be education and improving educational conditions for young Salvadorans. This is going to improve an entire generation of individuals locally, not just at this school, but at all four of the schools that Beyond the Horizon is working on."
He said that when these young people see their parents and teachers working side by side with Americans, it creates the ability to humanize and relate to each other.
"I think Friendship Day goes a long way in showing tangible proof to the surrounding communities the U.S. Military and the host nation of El Salvador are partners in this and the U.S. Embassy and American ambassador's involvement strengthens that," Haskell said.