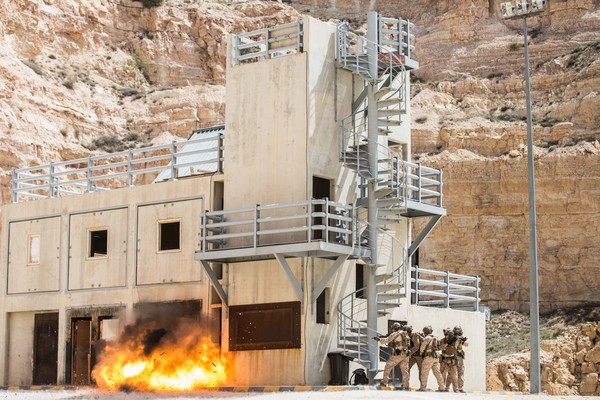 UNDISCLOSED LOCATION, Jordan —
Dry wind whispered through the ridgelines and into the urban training town as Marines with security platoon patrolled the empty streets. In the distance, explosions and gunfire, keeping them alert and attentive to their surroundings.
They carry only the essentials – their weapons and their gear. M4A1 carbine rifles, an M240B medium machine gun, an M249 squad automatic weapon, M203 grenade launchers, kevlar helmets with night vision goggles, shooters belts and protective flaks.
These Marines and Sailors with the Maritime Raid Force, 26th Marine Expeditionary Unit, conducted close quarters battle training, breach training, and varied length ranges in a military operations in urban terrain town as part of Eager Lion 18 at King Abdullah II Special Operations Training Center, Jordan, April 18-22, 2018.
The MRF trained to maintain proficiency and hone the unit's multitude of skillsets for critical mission requirements. They executed the training during Eager Lion, a major bilateral training exercise in which U.S. and Jordanian armed forces train together to be able to better address common threats to regional security.
"KASOTC is the one stop shop for our sustainment training, specifically involving advanced small arms tactics, rappelling, full mission profiles day and night, breaching, close quarters battle training, and raids," said Staff Sgt. Daniel B. Burnap, a team leader assigned to reconnaissance platoon, MRF, 26th MEU. "It gives the guys an opportunity to brush up and improve on specific skillsets that we haven't been able to on ship. "
The MRF is the MEU'S direct action raid and visit, board, search, and seizure capability for maritime security and interdiction operations, comprised of two reconnaissance platoons and one security platoon, split between the Wasp-class amphibious assault ship USS Iwo Jima and the Harpers Ferry-class dock landing ship USS Oak Hill. Aside from being a VBSS capability, the MRF is required to maintain mission critical skills within force reconnaissance and the infantry respectively.
"Training in KASOTC has been beneficial because of the size of the MOUT town which has allowed us to conduct patrols, CQB training and ranges in different environments every day," said Sgt. Landon G. McCabe, a squad leader assigned to security platoon, MRF, 26th MEU. "It keeps the Marines on their toes because this rocky, desert environment isn't anything like the Marines are used to training in back in Camp Lejeune."
KASOTC's urban area is designed to replicate a realistic urban setting, with 56 different city buildings and facilities, split into three sections. It is equipped with eight live-fire ranges, a multi-purpose tower, and a method of entry site, according to their website.
"Being able to facilitate all our own training has allowed us to closely observe where and how we need to improve," said Burnap. "We're not here under an official school, so anytime we need to remediate, we can instantly do so allowing us to become more proficient by correcting things on the spot or by going and doing it again within minutes."
The MRF, always eager to make the most of training opportunities, will walk away from Eager Lion and continue their scheduled deployment with sharpened skills and minds.