This report originally published at centcom.mil.
U.S. Air Force F-16 Fighting Falcons from the 480th Fighter Squadron, 52nd Fighter Wing, Spangdahlem Air Base, Germany, arrived here Nov. 12, to enhance U.S. Air Forces Central's ability to deter aggression and promote security and stability within the U.S. Central Command area of responsibility.
Deploying as an instrument of Dynamic Force Employment, the detachment of F-16s along with squadron personnel from Spangdahlem AB will rapidly integrate into theater air training, as well as joint, coalition and partnered missions. The unit's presence highlights the Air Force's ability to rapidly deploy and employ forces anywhere around the globe at any moment.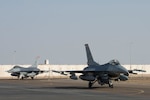 U.S. Central Command (CENTCOM) reports are created independently of American Military News (AMN) and are distributed by AMN in accordance with applicable guidelines and copyright guidance. Use of CENTCOM and U.S. Department of Defense (DOD) reports do not imply endorsement of AMN. AMN is a privately owned media company and has no affiliation with CENTCOM and the DOD.