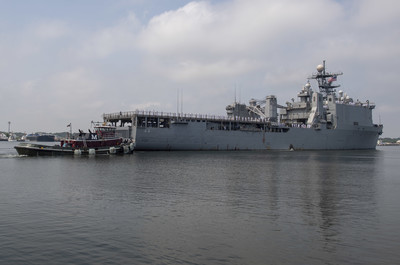 July 9, 2018 —
MAYPORT, Fla. (NNS) – The Whidbey Island-class amphibious dock landing ship USS Gunston Hall (LSD 44) with Destroyer Squadron Four Zero (DESRON 40) has deployed to the waters surrounding Latin America and the Caribbean to conduct Southern Seas 2018.
Gunston Hall is hosting a multinational staff consisting of representatives from Argentina, Brazil, Colombia, and the United States throughout the deployment. The team will focus on operating in a multinational environment, while ready to deal with unconventional threats such as illicit trafficking, improving training levels in a variety of mission areas, and responding to humanitarian crises.
"This deployment provides a unique opportunity for U.S. and partner nations to increase our interoperability by working together as a multi-national staff for a prolonged period of time," said DESRON 40 Commodore Capt. Brian Diebold. "The multi-national staff will execute a variety of missions over the coming months that will include integrating and conducting operations with the U.S. Marine Corps, U.S. Coast Guard and 13 partner nations."
Gunston Hall will make a variety of port visits designed to promote goodwill and friendship with nations in the region.
For additional information about Southern Seas 2018, contact COMUSNAVSO/C4F Public Affairs Office by email: comusnavso-c4f_mypt_pao(at)navy.mil; or by phone: (904) 270-4843 or visit www.public.navy.mil/comusnavso-c4f, on Facebook at www.facebook.com/NAVSOUS4thflt, or on Twitter at www.twitter.com/navsous4thflt.