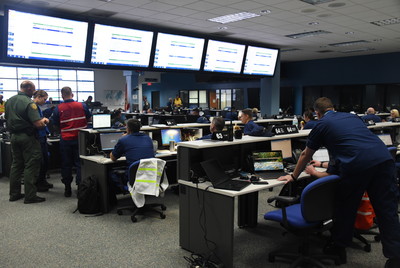 April 15, 2019 —
MIAMI — U.S. Southern Command (SOUTHCOM)'s annual interagency exercise, Integrated Advance, began today and will continue through Thursday, Apr. 18.
Integrated Advance provides an opportunity for SOUTHCOM and its component commands to exercise working closely with various federal agencies, as well as state and local governments, in the case of a humanitarian crisis. This year's exercise will focus on preparing for a maritime mass migration in the Caribbean, but is unrelated to any specific real-world event.
The Department of Homeland Security is the lead federal agency responsible for mass migration operations. SOUTHCOM trains every year in order to be able to support Homeland Security Task Force-Southeast's mass migration operations plan, Operation Vigilant Sentry.
For more information on Operation Vigilant Sentry or Homeland Security Task Force-Southeast, contact LCDR Ryan Kelley at [email protected] For information on this or other SOUTHCOM exercises, contact LCDR Rebecca Haggard at [email protected]