This report originally published at southcom.mil.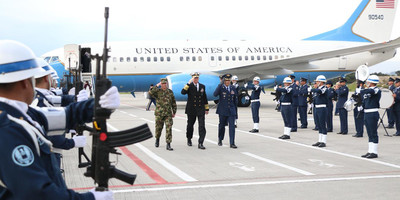 Dec. 1, 2018 —
New U.S. Southern Command (SOUTHCOM) commander, Navy Adm. Craig S. Faller, visited Colombia Nov. 28 – 30 for his first official trip since assuming command Nov. 26.
The admiral met with Colombian leaders and U.S Ambassador to Colombia, Kevin Whitaker, to discuss the U.S.-Colombian security partnership and to visit the U.S. Navy hospital ship USNS Comfort, which was providing care in Riohacha as part of a medical assistance mission.
On Nov. 29, Faller met with Colombian Minister of Defense Guillermo Botero and Colombian Chief of Defense Alberto Jose Mejia to discuss continued cooperation.
Prior to his visit to USNS Comfort Nov. 30, Faller met with Colombian President Ivan Duque to discuss the continuation of both nations' strong security partnership.
During the visit to USNS Comfort, Faller met with patients and crew of the hospital ship and also participating the closing ceremony marking the end of the medical mission in Riohacha.
U.S. Southern Command (SOUTHCOM) reports are created independently of American Military News (AMN) and are distributed by AMN in accordance with applicable guidelines and copyright guidance. Use of SOUTHCOM and U.S. Department of Defense (DOD) reports do not imply endorsement of AMN. AMN is a privately owned media company and has no affiliation with SOUTHCOM and the DOD.