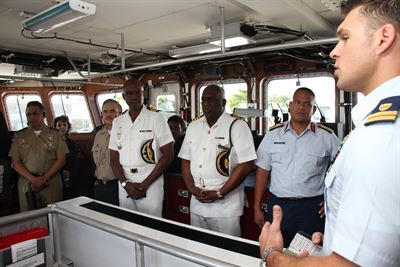 WASHINGTON, Dec. 9, 2016 —
Trust, collaboration and innovation are necessary in fighting threat networks and their finances, the commander of U.S. Southern Command said Dec. 7 in opening remarks for the 15th Caribbean Nations Security Conference in San Juan, Puerto Rico.
Navy Adm. Kurt W. Tidd addressed some 120 leaders and delegates from 22 nations — representatives of five nations attended as observers — who met to examine threats to Caribbean stability and evaluate ideas to improve collaboration in support of regional security.
The two-day event featured discussions about transnational threat networks, informational sharing, regional security strategies, security synchronization, U.S. support to security in the Caribbean, disaster relief and multinational capacity-building exercises.
Threat Networks
"Threat networks – and the growing illegal economies that support them – undercut the interests of many across multiple countries and continents," Tidd said.
Many threat networks prey on citizens who are disadvantaged and disaffected, the admiral noted. "Many glamorize violence and use it as a tool to intimidate local populations and inspire legions," Tidd said. "And from criminal gangs to extremist groups like [the Islamic State of Iraq and the Levant], many networks exploit social media and popular culture using slick, high-quality videos and music that promote killing, intimidation and a code of silence. Many more have local 'franchises' that spread like viruses through our communities."
These networks are woven into the fabric of the collective environments of the nations participating in the conference and pose a challenge to collective security, the Southcom commander said. Combating them requires collaboration in law enforcement, diplomacy intelligence and with military partners across the region.
Combating Threats
Defeating the threat networks requires out-adapting them and seeking out new technology and innovation, Tidd told the conferees.
"We must exploit new technologies and not be afraid to challenge old ways of doing business," he said. "We must seek out and leverage the expertise of civil society, academia, and the private sector, who can bring fresh perspective, unique skill sets and innovative solutions to bear on complex challenges. And we must hone the skills and capabilities our forces need to succeed in a transformed security environment."
The conference took place less than two months after the region's governments signed a joint action statement on security cooperation following a dialogue on Caribbean-U.S. security cooperation in Washington.
Since 2010, the United States has partnered with Caribbean nations to support the Caribbean Basin Security Initiative, part of an integrated regional effort to reduce illicit trafficking, increase public safety and security, and promote social justice. The United States has committed $437 million in funding to the initiative since its inception.
The Caribbean Nations Security Conference is sponsored annually by Southcom, the Defense Department's unified command responsible for U.S. military operations and security cooperation in the Caribbean, Central America and South America.
(Follow Shannon Collins on Twitter: @CollinsDoDNews)