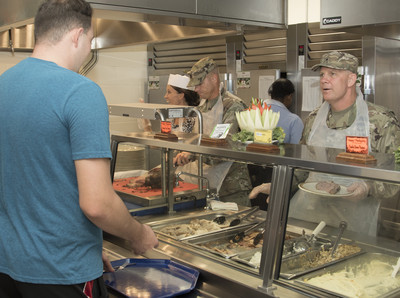 Nov. 21, 2018 —
NAVAL STATION GUANTANAMO BAY, Cuba — Navy Adm. Kurt W. Tidd, Commander, U.S. Southern Command, visited Joint Task Force Guantanamo Troopers to celebrate the Thanksgiving holiday as one of his final acts as commander, Nov. 22. Tidd was joined by incoming SOUTHCOM Commander, Navy Adm. Craig S. Faller; Marine Sgt. Maj. Bryan K. Zickefoose, SOUTHCOM Command Senior Enlisted Leader; and JTF GTMO leaders, to visit Troopers on duty and serve Thanksgiving lunch at the Camp America Galley.
The galley was filled with laughter as JTF GTMO and SOUTHCOM leaders tried to persuade Troopers to join their perspective lines to receive "chow."
One Trooper shared what seeing leadership during the holidays meant to him.
"It's pretty cool to see them all," he said. "We're all away from our families right now, and I know they're taking time away from theirs to be with us today."
Tidd, who will retire next week after more than 40 years of service, expressed his gratitude at being able to spend his Thanksgiving with JTF Troopers.
"I wanted to thank each and every one of you for all that you do," Tidd said, speaking briefly to Troopers in attendance at the galley prior to enjoying his own meal. "I wanted to make sure the last thing I do before the change of command is to spend Thanksgiving with all of you."
Faller will assume command of SOUTHCOM early next week.