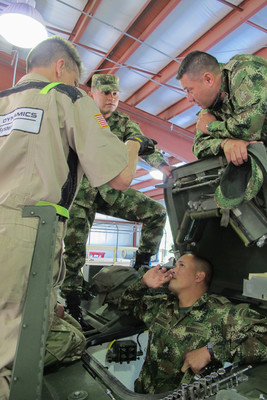 April 23, 2018 —
COLUMBIA, S.C. – Five Colombian army soldiers traveled to South Carolina to meet with South Carolina Army National Guard maintenance experts to discuss best practices during a subject matter expert exchange, April 15-19.
During their visit the Colombian soldiers toured the Combined Support Maintenance Shop, the Unit Training Equipment Site at the National Guard's McCrady Training Center and maintenance facilities in Darlington and Summerville, getting a first-hand look at how the South Carolina Army National Guard conducts its daily maintenance operations. During the exchange, the soldiers spoke with National Guard Soldiers, who work on equipment every day, to discuss procedures and programs.
The week's events at multiple Army National Guard maintenance facilities gave the Colombian soldiers an overview of processes the Army uses to address maintenance issues and quickly repair equipment to keep readiness at a peak.
"The biggest thing is how we prioritize support logistically to return the equipment to the user," said U.S. Army Chief Warrant Officer 2 Misael Cabrera, a maintenance and logistics officer assigned to the Training and Assist Fielding Team in La Guajira, who escorted the Colombian soldiers to South Carolina.
"Next step is to bring Subject Matter Experts to the Colombian facilities," Cabrera said. "This would allow them to address questions while on site and provide some guidance on the spot."
Colombian army Staff Sgt. Juan Usuga from La Guajira, said he was impressed with the processes the U.S. Army uses.
"That's why [the] equipment is so good. It ensures the readiness of the unit," Usuga said. "You do not need a lot of personnel to do maintenance because you have so many technical experts."
Colombian army 1st Lt. Sergio Henriquez with the Logistical Command of the Colombian Army in Bogota, echoed Usuga's thoughts.
"The South Carolina National Guard is a very important guide to ensure we are doing the maintenance process correctly," Henriquez said. "Personally it was very enriching. It is a good motivation for us [to keep] doing our best."
Ground Vehicle Maintenance is a line of effort the South Carolina Army National Guard has focused on with the Colombian army since the partnership's inception in summer 2012. These engagements continue to integrate U.S. Army South and South Carolina Army National Guard, working together bolstering U.S. Southern Command's efforts in Colombia.