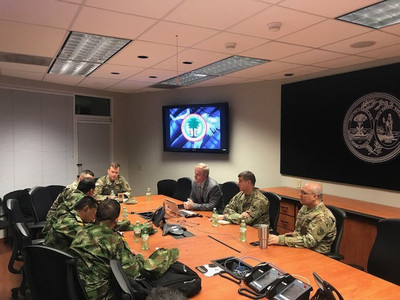 July 11, 2018 —
WEST COLUMBIA, South Carolina – A team of senior officers from the Colombian Army met June 29 with South Carolina Army National Guard leadership and experts from the South Carolina Emergency Management Division to discuss disaster response best practices and lessons learned at the South Carolina National Guard Joint Operations Center.
The Colombian Army and the South Carolina National Guard have collaborated through the State Partnership Program since 2012. Through the SPP, National Guard and partner countries conduct engagements in support of defense security goals in cooperative, mutually beneficial relationships.
This particular engagement and exchange of information was especially timely as Colombian government officials and residents are preparing for the potential failure of the Hidroituango Dam, a hydroelectric dam still under construction in northeast Colombia on the river Cauca. If the dam bursts, the effects of the flooding would be catastrophic. More than 250,000 people are expected to be affected.
Over 10,000 residents have been evacuated from the area since May as heavy rain caused landslides that clogged up the diversion tunnels used to reroute the river water as the dam was being constructed. This clogging caused the reservoir's water to increase to levels that the dam was not yet ready to hold and as the rainy season continues, the water levels continue to rise. The Colombian authorities have placed the area on "high alert."
The trip by Colombian leaders was planned in advance and coordinated by Brig. Gen. Juan Trujillo, leader of troops attached to the Air Assault Aviation Division for Colombia. Trujillo visited Fort Rucker, Alabama, for one day to see their Aviation Combined Arms Tactical Trainer (AVCATT) training simulator, then came to South Carolina to view and learn about conditions-based maintenance for aircraft and visit the South Carolina Helicopter Aquatic Rescue Team (SC-HART) at the Fire Academy in Columbia.
While the trip was being planned, and the precarious conditions of the Hidroituango dam increased, the general requested an additional stop while in South Carolina to speak with South Carolina Emergency Management representatives about how the state prepares for and responds to disasters and weather events.
"Our partnership with South Carolina supports the mutual sharing of experiences and training," said Trujillo. "We know that South Carolina has had a lot of experience dealing with weather events like flooding and hurricanes where people have been evacuated and moved from harm's way. We wanted to learn from South Carolina and take back training models that we can use to help us prepare."
The South Carolina Emergency Management Division leads the state emergency management program by supporting local authorities to minimize the loss of life and property from all-hazard events.
South Carolina Emergency Management Division's chief of staff, Steven Batson, reviewed the planning processes that South Carolina employs in preparation for catastrophic events, emphasizing the importance of multi-agency partnerships.
"Whether you are assisting the citizens of Columbia, South Carolina, or Colombia, South America, coordination with local officials nearest to the incident is critical," said Batson. "The planning process is vital for comprehensive emergency management and must be reinforced with integrated training and exercises."
"Being able to share what South Carolina has learned from the past five years of experiencing extreme weather incidents is the main purpose of the meeting between the Colombian leadership and the SCEMD," said Capt. Michael Haley, branch chief of international affairs for the South Carolina National Guard. "Planning and training for events is something that South Carolina does extremely well."
"The partnership program is so valuable," said Haley. "We are able to take information and ideas from each other that benefits both organizations."