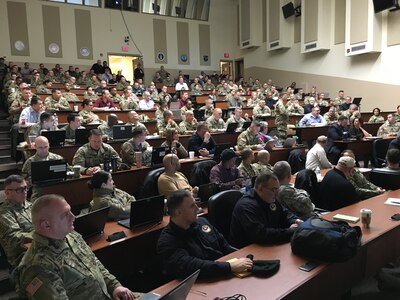 Camp Atterbury, Ind., Dec. 12, 2018 — About 150 active joint, Reserve and National Guard members and DoD civilians from units representing the DoD Chemical, Biological, Radiological and Nuclear (CBRN) Enterprise (CRE) met for a planning meeting at Camp Atterbury Ind. (CAIN), Dec. 4-6, 2018 to prepare for Exercise Vibrant Response 2019 (VR-19).

"We are putting more rigor and complexity into this year's exercise," said Army Col. Chris Baril, chief of exercises, training and exercises directorate, U.S. Army North (ARNORTH), Fort Sam Houston, Texas. "We are running the exercise out of several states concurrently, so that's complex in itself as well as having to react to multiple near-simultaneous events."
VR-19 is an annual ARNORTH command post exercise (CPX). ARNORTH is the U.S. Northern Command (USNORTHCOM) joint force land component command (JFLCC). In 2019, VR takes place from April 22 to May 22 at various places in Indiana and in Michigan. It is USNORTHCOM's largest annual CBRN exercise.
The CPX is broken up into two phases. In phase one, JTF-CS is being trained from April 26 to May 8 to mission command 5,200 DoD CBRN response forces. In phase two, Task Force-76 and Task Force-46 are being trained from May 6-18 to mission command 2,600 C2CRE-A and C2CRE-B response forces. The C2CRE-A/B are the Command and Control (C2) CBRN Response Element-Alpha and Bravo, key components of a federal response to a CBRN event.
"We look forward to the opportunity to rapidly deploy while simultaneously strengthening relationships with our civilian partners and executing requested mission assignments during VR-19," said Army Col. Chris McKinney, Task Force 46 Officer in Charge, 46th Military Police Command, C2CRE-B.
"The C2CRE-A/B are designed as a viable and responsive capability within the national CBRN response enterprise, consisting of specially trained Army National Guard and Army Reserve military personnel," explained Army Lt. Col. Mathew Camel, a planner in the JTF-CS Plans Directorate. "The C2CRE-A/B serves as a C2 headquarters to supplement the JTF-CS lifesaving mission during a large-scale CBRN response effort."
"The C2CRE can deploy to near-simultaneous events, which are geographically separate from the operations being conducted by the DCRF, to join a broader lifesaving mission," added Camel. "They also have their own life-saving and search and rescue capability, which resides within A/B, and is about one-third that of the DCRF."
"C2CRE-B will utilize rotary wing, fixed wing and ground movements to validate training and readiness objectives toward a FEMA designated BSI," said McKinney. "Additionally, we will validate the two-star mission command headquarters' operational capacity for complete self-sufficiency in an austere environment."
During the planning break-out sessions, various units of the CBRN Response Enterprise worked through the details of executing the VR-19 exercise. The DoD's response enterprise provides a tiered response capability in order to respond to a multitude of chemical, biological, radiological or nuclear incidents.
The teams discussed the logistics of getting to and from the exercise with equipment and personnel traveling across the country; training objectives to achieve while at VR-19; details on interagency participants with organizations like FEMA; the meal and lodging provisions for the trainees; safety and personal conduct and many more details.
"While planning for training and while conducting training, we work consistently to ensure our plans are synchronized with those of our local, state and federal partners," said Navy Capt. Bryan Cochran, director, JTF-CS Plans Division. "We want to be builders of readiness, not consumers of readiness."
The two-star general officer command headquarters of the DCRF, C2CRE-A and C2CRE-B, are the primary training audiences for this exercise, he added. VR serves as a confirmation exercise for the DCRF, C2CRE-A and C2CRE-B.
Cochran was among 15 Joint Task Force Civil Support members attending. Participants worked through the exercise planning details with the goal of the task force being validated to provide mission command of the Defense CBRN Response Force (DCRF). The oncoming DCRF units are scheduled for mission assumption on June 1, 2019.
The DCRF consists of 5,200 personnel to include Soldiers, Sailors, Airmen, Marines and civilians from active-duty and reserve units.
The DCRF's mission in the event of a catastrophic CBRN incident is to assist local, state, federal and tribal partners in saving lives, preventing further injury, and providing critical support to enable community recovery when conducting Defense Support of Civil Authorities (DSCA) response operations.
"I feel confident that as we work together with our partners through these planning events, we'll provide a robust realistic exercise," said Baril. "Our goal is to best prepare the DoD CBRN Response Enterprise to provide life-saving and sustaining capabilities in a time constrained environment to meet the needs of the nation."
—–
Exercise Vibrant Response 2019 (VR-19) Mid Planning Meeting is now underway at Camp Atterbury, Ind. (CAIN). Some 150 active and reserve joint military members; DoD civilians; contractors and interagency representatives like FEMA from more than 50 units or organizations are preparing for VR-19. The 15 Joint Task Force Civil Support planners are completing milestones toward confirming their operational CBRN readiness and capabilities. U.S. Army North executes VR-19, a command post exercise (CPX) from April 22 to May 22, 2019, at CAIN and Michigan.