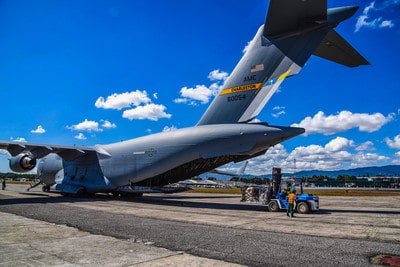 Guatemala City, Guatemala, Jan. 9, 2019 — Reservists from the 315th Airlift Wing at Joint Base Charleston delivered nearly 8,000 pounds of humanitarian aid to Guatemala City yesterday.
The mission, part of a standard C-17 Globemaster III aircraft training mission, delivered the donated supplies consisting of firefighting and rescue equipment to the people of Guatemala.
"Guatemala is in the news a lot lately and missions like these, not only help people in need, it shows them that we are here to help when we can," said Lt. Col. Rick Chadwick, 701st Airlift Squadron commander. "When you can combine our regular training with a mission that helps people in need, it's a win for everyone."
The relief missions are part of ongoing efforts by the 315th Airlift Wing to utilize flight training hours to provide humanitarian relief to countries in need, while also providing mandated training for C-17 aircrew members.
Missions like these are made possible by the Denton Amendment, a Department of State/USAID program allowing the delivery of donated humanitarian aid to fly on Air Force assets on a space available basis.
According to the donation application, Guatemala does not have a tax system in place to pay for firefighting and rescue equipment. These donations will allow Guatemalan fire and rescue personnel to be protected while doing their jobs. They had received training on the new equipment and were waiting on its arrival. The crew was also scheduled to deliver a donated ambulance, but it was unavailable due to severe weather at the pickup location.