This report originally published at defense.gov.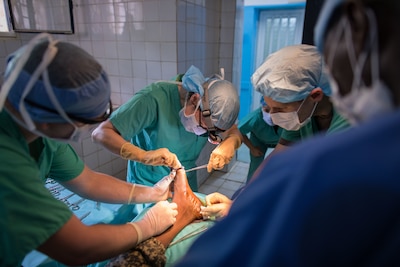 ---
FALLS CHURCH, Va. —
Nurses have been caring for American service members on and off the battlefield since the Revolutionary War. Through the generations, the number of women and men serving as military nurses has continued to grow. The contribution, sacrifice and bravery of these military and civilian medical professionals are recognized during National Nurses Week.
"This week, we proudly celebrate all nurses across the Military Health System – past and present – serving our courageous warfighters, retirees, and their families," said Tom McCaffery, acting assistant secretary of defense for health affairs, who attended the Military Health System Nurses Week wreath-laying ceremony at Arlington National Cemetery's Nurses Memorial on May 7.
"The selfless service of nurses in the Military Health System and the Department of Defense impacts each of us every day," he said. "Their dedication to providing the highest-quality care possible to our 9.4 million beneficiaries means that our troops are safer downrange, our military families are healthier back home, and our nation is a more secure, more prosperous place as a result."
Proud Tradition of Service
National Nurses Week, which runs from May 6-12, is a weeklong celebration anchored by the birthday of Florence Nightingale, who is often considered the founder of nursing. This year's theme is "Nurses: Inspire, Innovate, Influence."
Carol Romano, dean and professor at the Uniformed Services University of Health Sciences Graduate School of Nursing, said nurses are on the frontline of protecting, promoting, and advancing the health and safety of the nation. And like Nightingale, nurses carry knowledge to bring hope, comfort, and care to those in need, she said.
"Nurses inspire others to health; they innovate in leading quality, safety, and access to care; and they influence policy and the healing of mind, body, and spirit, not only for people but for a nation," said Romano, who gave the opening remarks at the ceremony.
The proud tradition of nursing in the military dates back to the founding of our military, when Gen. George Washington requested the assistance of nurses to tend his wounded and sick soldiers along with a matron to oversee their work. Congress approved, granting one nurse for every 10 patients in Continental Army hospitals. Eighty years later during the American Civil War, thousands of men and women performed nursing duties.
"Since the American Revolution, from battlefields to bedsides, on water, in the air, and on land, nurses and technicians have served admirably as an indispensable part of the U.S. fighting force," said Maj. Gen. Dorothy Hogg, deputy surgeon general of the Air Force, in her keynote address at the wreath-laying ceremony.
Nursing Corps Established
During the Spanish-American War, the Army relied on contract nurses for the first time. Anita Newcomb — the only woman authorized to wear an officer's uniform at the time — was appointed the U.S. Army's acting assistant surgeon general and hand-selected nurses to care for service members during the war, Hogg said. This led to the formal establishment of the Army Nurse Corps in 1901. The Navy Nurse Corps, established in 1908, will celebrate its 110th anniversary on May 13. The Air Force Nurse Corps emerged from the Army Nurse Corps in 1949.
When the United States entered World War I in 1917, more than 400 nurses were on active duty. By the end of the war, about 21,000 women, or half of all women who served in the armed forces, belonged to the Army Nurse Corps. They helped fight the influenza epidemic of 1918, which took the lives of more than 200 Army nurses.
Nearly 74,000 military nurses answered the nation's call in World War II, Hogg said. The first Navy flight nurse to fly into an active battlefield was Ensign Jane Kendeigh, who helped evacuate more than 2,000 injured service members during the Battle of Iwo Jima.
"Nurses [in World War II] administered care closer to combat than ever before," said Hogg. "They went above and beyond their traditional roles, triaged patients, sutured wounds, and administered blood in the line of fire."
While speaking at the ceremony, Navy Capt. Deborah Roy, the deputy director of the Navy Nurse Corps, said she was reminded of the 91 nurses captured on Corregidor and held for 37 months in Japanese Prison Camps in the Philippines in 1942. They cared for the sick and injured despite their personal suffering from malnutrition and infectious diseases, with scarce resources during two-and-a-half years of imprisonment, she said.
"We can all recount other stories of the distant and recent past of how nurses influence, inspire, and innovate," Roy said. "Let us continue to be transformational leaders in the delivery of health care around the world."
Improving Care
Today, more than 28,500 nurses serve in the uniformed forces and the Defense Health Agency. Hogg said military nurses have advanced combat medicine and improved care for warfighters, including reducing cross contamination of infections, initiating protocols to enhance military nurses' readiness for deployment, and developing methods to reduce pressure injuries en route to care.
In addition to being caregivers, nurses are also patient advocates, administrators, program managers, educators, researchers, and clinic leaders who take on some of the most challenging positions across the Military Health System, Hogg said. "We must continue to learn from our past and build on our future. The nurses buried here were the nurses who made our profession what it is today … We are responsible for what nursing will be in the future."
Additional speakers and distinguished guests at the ceremony included Army Col. Melissa Hoffman, deputy chief of the Army Nurse Corps, former chiefs and director of each branch's nurse corps, and Dr. Karen Off of the Department of Veterans Affairs' office of nursing services.
"Thank you to all nurses and technicians, past and present, who make military medicine what it is today," Hogg said, adding praise for those who face the irregular hours, stressful environments, and challenges of nursing. "This is not a profession for the faint of heart. I am honored to recognize your efforts today and grateful for all you do."
U.S. Department of Defense (DOD) reports are created independently of American Military News (AMN) and are distributed by AMN in accordance with applicable guidelines and copyright guidance. Use of DOD reports do not imply endorsement of AMN. AMN is a privately owned media company and has no affiliation with the DOD.