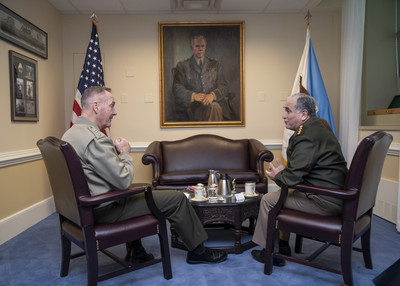 April 5, 2019 —
April 5, 2019
WASHINGTON–Joint Staff Spokesperson Col. Patrick S. Ryder provided the following readout:
Chairman of the Joint Chiefs of Staff Gen. Joseph F. Dunford, Jr. met with Argentine Chief of Defense Gen. Bari del Valle Sosa today.
Gen. Dunford congratulated Gen. Sosa on his induction into the International Hall of Fame at the Army's Command and General Staff College. The two senior leaders discussed areas of shared interest, including regional security issues. They also discussed ways to expand and strengthen the bilateral military relationship.
The U.S. and Argentina enjoy a strong friendship and share positive military-to-military ties. Argentina was designated a major non-NATO ally of the U.S. in 1998.
For more Joint Staff news, visit: www.jcs.mil.
Connect with the Joint Staff on social media:
Facebook, Twitter, Instagram, YouTube,
LinkedIn and Flickr.