This report originally published at centcom.mil.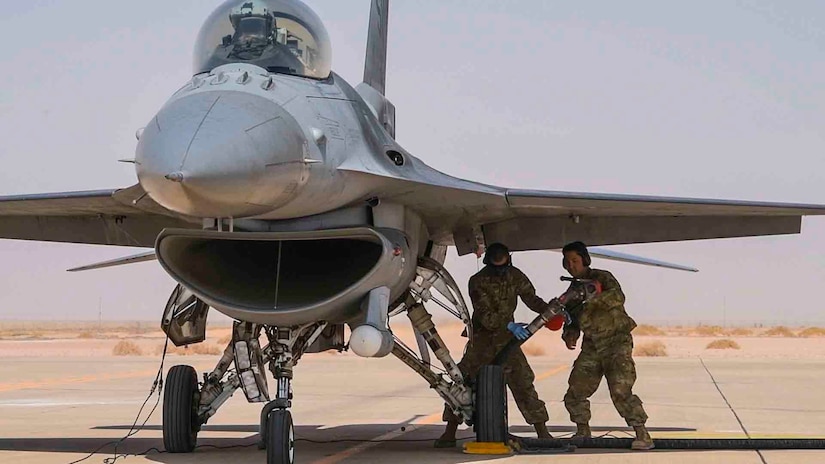 PRINCE SULTAN AIR BASE, Kingdom of Saudi Arabia, Feb. 12, 2020 — Two U.S. Air Force F-16 Fighting Falcons and two F-35A Lightning II fighter jets demonstrated capabilities during an agile combat employment mission, Feb. 7, 2020.
These 4th and 5th-generation fighter aircraft from the 380th Air Expeditionary Wing at Al Dhafra Air Base, United Arab Emirates, performed an ACE mission that exercised a critical capability of U.S. Air Forces Central Command. The ACE mission illustrated the link between sound tactical employment, operational flexibility, and coalition strength in the AFCENT area of responsibility.
"This demonstrates an important capability that our airmen and this base bring to the fight. Our ability to rapidly refuel and launch multiple types of combat aircraft provides a lot of flexibility as we promote regional stability and protect our coalition partners." said Col. Robert Raymond, 378th Expeditionary Operations Group commander.
The Airmen at PSAB executed the hot refueling capability, refueling the mixed aircraft set without shutting down the aircraft or any of their systems and rapidly returning the aircraft to the skies to maintain air superiority. The hot refueling showed that the U.S. Air Force can quickly regenerate airpower and it showed another way PSAB is providing operational depth in the AOR.
"This is an important milestone for PSAB as we continue to establish and hone our combat capability. We're ensuring PSAB's capability to rapidly receive, fuel, and launch combat aircraft – from any base – back into the fight." said Brig. Gen. John C. Walker, 378th Air Expeditionary Wing commander. "This exercise is about furthering CENTCOM's operational depth in the AOR – and today I'm proud to have been a part of a team that took another step in that direction."
While a variety of fighter jets have exercised training missions at PSAB, this is the first time the F-35s have visited. This ACE mission tested a proof of concept, providing forces the opportunity to move rapidly across the AOR, test the capability of Airmen, and solidify the interoperability of aircraft and maintainers.
U.S. Central Command (CENTCOM) reports are created independently of American Military News (AMN) and are distributed by AMN in accordance with applicable guidelines and copyright guidance. Use of CENTCOM and U.S. Department of Defense (DOD) reports do not imply endorsement of AMN. AMN is a privately owned media company and has no affiliation with CENTCOM and the DOD.