This report originally published at southcom.mil.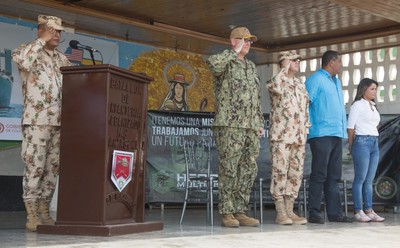 Nov. 29, 2018 — RIOHACHA, Colombia (NNS) — Senior leadership and personnel embarked aboard USNS Comfort (T-AH 20) attended an opening ceremony at a land-based medical site in Riohacha, Colombia, Nov. 26.
"Our mission here is to promote peace, security and stability throughout the Americas by strengthening our partnerships with the nations of South and Central America," said Capt. William Shafley, commander, Task Force 49. "The medical team will work alongside the government of Colombia to provide top quality medical care to people in need."
A team comprised of more than 900 medical personnel, including military, non-governmental organization volunteers and members from partner nations, began screening surgical patients Saturday, Nov. 24. The opening ceremony marked the commencement of the medical sites' full operability, which will continue to treat patients for the next several days.
"Comfort's presence here represents an enduring promise of friendship, partnership and solidarity with Colombia," said Shafley. "This mission is but one demonstration of our commitment to a powerful cooperation between our two countries."
Brigadier General Jaime Hernando Rivera Jaimes, acting commander of the Colombian Army 1st Division and Wilson Rojas Vanegas, governor of La Guajira, were among some of the distinguished guests and speakers at the ceremony.
"It's a pleasure for us to have this ship here to bring healthcare to the Colombians and Venezuelans in this difficult situation," said Vanegas, translated from Spanish. "To the United States, we can't thank you enough. We are immensely happy with this grand mission of surgeries and medical attention."
This is the sixth time that Comfort has deployed to the region, and the fifth time that Comfort has visited Colombia. Past missions have provided medical treatment to more than 390,000 patients, including 6,000 surgeries.
Comfort is on an 11-week medical support mission to Central and South America as part of U.S. Southern Command's Enduring Promise initiative. Working with health and government partners in Ecuador, Peru, Colombia and Honduras, the embarked medical team will provide care on board and at land-based medical sites, helping to relieve pressure on national medical systems caused partly by an increase in cross-border migrants. The deployment reflects the United States' enduring promise of friendship, partnership and solidarity with the Americas.
For more information, visit www.facebook.com/NAVSOUS4THFLT, www.dvidshub.net/feature/comfort2018, and www.navy.mil.
Get more information about the Navy from US Navy facebook or twitter.
For more news from U.S. Naval Forces Southern Command & U.S. 4th Fleet, visit www.navy.mil/local/cusns/.
U.S. Southern Command (SOUTHCOM) reports are created independently of American Military News (AMN) and are distributed by AMN in accordance with applicable guidelines and copyright guidance. Use of SOUTHCOM and U.S. Department of Defense (DOD) reports do not imply endorsement of AMN. AMN is a privately owned media company and has no affiliation with SOUTHCOM and the DOD.