This report originally published at defense.gov.
New York National Guardsmen have been activated to prepare for potential flooding in upstate New York ahead of expected higher temperatures and rain.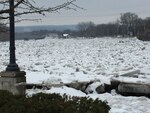 U.S. Department of Defense (DOD) reports are created independently of American Military News (AMN) and are distributed by AMN in accordance with applicable guidelines and copyright guidance. Use of DOD reports do not imply endorsement of AMN. AMN is a privately owned media company and has no affiliation with the DOD.