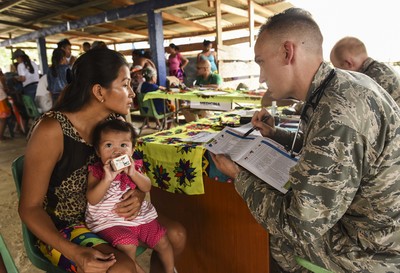 METETI, Panama, May 2, 2018 — As with most tasks, hands-on education remains one of the most effective training methods of both learning and maintaining skills. For some medical professionals participating in Exercise New Horizons 2018, hands-on training comes in the form of fully submerging into local clinics.
Doctors and technicians from the 346th Air Expeditionary Group participated in an Embedded Health Engagement, which sought to incorporate them directly into the clinics near Meteti, Panama.
"We brought in three doctors to make up our EHE team," said U.S. Air Force Lt. Col. Brian Neese, 346th Expeditionary Medical Operations Squadron commander. "They were brought in to integrate themselves directly into the host country's medical system. Because of that, we didn't bring any additional medications and brought very little additional equipment."
By integrating directly, the medical team was forced to adapt to a completely foreign environment, new regulations and new standards. All three doctors worked in one of three separate regional clinics.
"It's a very different approach to the New Horizons effort. Each day, we sent one doctor to each clinic or hospital," Neese said. "We would show up and work with the doctor in charge. Often times we even got to pair up with a resident in training, which proved a huge benefit to both sides. At every step we saw patients together, side-by-side. We discussed cases and learned from each other."
The EHE team has three doctors; one pediatrician, one family physician and one OB/GYN. Each provider is able to assist members of the local communities within each of their specialties.
"On average, each provider is seeing about 7 to 10 people per day," Neese said. "But this is not about numbers. When it comes to a typical medical readiness exercise, we see hundreds of patients per day, but with the EHE team we see as many patients as the clinic would normally see, so that we are truly embedded and integrated into the local health care system."
During their engagements, the doctors shared and received valuable information that enhances their overall readiness as military medics.
"For our [medical] training requirements, at the Department of Defense level, there are a set of guidelines for what skills a military medic should have and should train to in an exercise like New Horizons," Neese said. "Operational readiness, global health knowledge, cross culture competencies and language skills are all tools that we must develop in order to be effective at our job as military health care professionals. There is no better model to meet these objectives than the Embedded Health Engagement. Our experience here in Meteti has shown this to be true."
Local doctors and health professionals echoed their support for the EHE team and the longer lasting impacts it will have.
"This is what really works," said Dr. Panama Perez, MINSA Darien reginal director of health.
Working hand-in-hand will leave us with longer lasting impacts than the typical Medical Readiness Exercise, and we much prefer working with the EHE team, Perez said.
As the providers worked with local doctors, the partnerships formed provided a better understanding of the strengths each doctor possessed.
"We have found that the medical knowledge of our counterparts here is equivalent," Neese said. "The issue is not one of knowledge, but of resources. Areas such as the Darien region don't always have the resources like we have in the United States."
Neese added that due to the local clinics' lack of resources, their ability to adapt and diagnose problems has provided the New Horizons 2018 medical team more skills to perform in austere environments.
"As we went along, there became more and more opportunities to share information, best practices and standards," Neese said. "Our doctors learned a lot about World Health Organization standards and approaches to medical problems in low-resource areas, as well as aggressive approaches to preventive medicine.
"We have been impressed with how compliant the Panama Ministry of Health is in meeting or exceeding WHO standards." he added.
Coupled with the immersive training that New Horizons 2018 has provided the team, the exercise will give them a unique and memorable experience.
"This has been a really neat opportunity," said U.S. Air Force Maj. Adam Hebdon, 346 EMDOS family physician. "We have the opportunity to work side-by-side with the Panamanian doctors and medical staff. We are learning about their medical care system and the challenges they are facing from a treatment perspective, as well as aiding a relatively under-served population. We are also dealing with some diseases that are indigenous to the tropical area, which are different than what we see back in the United States."
Throughout the visit, Neese was impressed with the ability of the clinics to fully utilize the EHE team and build upon their partnerships.
"The doctors really and truly enjoy this experience," Neese said. "It's a diverse experience and we have made lifelong personal and professional relationships here. Our Panamanian colleagues are very gracious hosts."