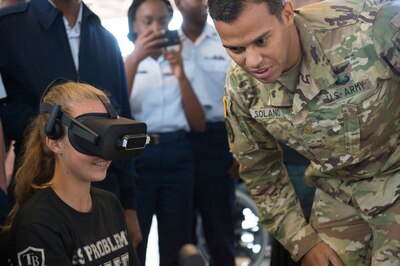 ---
SOUTHBRIDGE, Mass. —
The world has changed dramatically as technology capabilities have gone global, and the United States' near-peers China and Russia are advancing in the field at an alarming rate, Mary Miller, performing the duties of the assistant secretary of defense for research and engineering, said here May 1.
"People understand technology, and that is something we're going to have to embrace and leverage," Miller said during her remarks at the first Defense Department human capital symposium.
Today, adversaries of U.S. allies and partners also have access to the latest in technology, she said.
Miller added, "We're not the clear [technology] leaders that we used to be in the United States."
The U.S. has focused on insurgencies in Iraq and Afghanistan for nearly two decades, "and while we were busy taking care of business, our near-peer adversaries — Russia and China — have been investing in technology," she said.
America's adversaries invested in areas of technology thought to be U.S. weaknesses that could be exploited, she said, but to also to ensure the U.S. wouldn't be able to use its great strengths.
"We didn't think it was happening so fast," Miller said.
China's Tech Goals
China's 30-year strategy to become the dominant force in its area is well under way, she said, and the United States is concerned that once the Chinese have become regionally dominant, they will look to expand their influence.
"Microelectronics," she said as an example, "which touches everyone is of great concern to DoD because every weapon system we have has microelectronics."
China has a deliberate strategy and it's invested $150 billion to make sure they match the U.S. capability in microelectronics by the early 2020s, Miller said.
And, China wants to be globally dominant by 2030, she said.
If China becomes the global microelectronics leader, Miller said, the United States will have to go to them for every microelectronics-capable chip.
"This is unacceptable," she added.
Having the U.S. lose dominance in technology is a great concern, Miller said.
"Congress decided we need to focus on how we regain dominance, and they call it technical superiority," she explained, adding Congress decided to separate DoD's former acquisitions, technology and logistics entity into two organizations.
Research and engineering was formed as one of the entities "to take risks, push hard; don't worry about failures along the way," Miller said.
The other organization, acquisitions and sustainment, ensures equipment is expedited to the warfighter, she said.
The U.S. military is now focused on achieving global technology dominance, Miller said.
U.S. Must Be Dominant by 2028
"[Defense Secretary James N. Mattis] said we need to pursue urgent change on a significant scale. This isn't just one operational prototype … it's [about] how we substantiate the technology leap ahead that we need. He wants to be globally dominant by 2028," Miller emphasized.
She said the National Defense Strategy's three lines of effort — a more lethal force, strengthening relations with allies and making new partnerships, and reforming efficiency — will help DoD achieve global technology dominance by 2028.
Modernization is a focus of the National Defense Strategy, and in the last 15 years DoD hasn't modernized as much as it's focused on fighting the wars in Iraq and Afghanistan, Miller said.
The Defense Department is interested in hypersonics, directed energy and fully networked command, control and communications, she said, as well as operations in space — both offensive and defensive.
The DoD also will invest in cyber/electronic warfare, artificial intelligence, machine learning, missile defense, quantum science, microelectronics and nuclear modernization," Miller said.
But none of that matters if DoD doesn't create a workforce to employ all that high technology, she said.
Talented Workforce
Miller outlined some challenges DoD faces in the hiring realm, including the lack of ability to compete with industry to hire the necessary talent, and an "incredibly slow" way to hire people at the department. She added that DoD also does not pay equitably in many technological areas, compared to industry.
"But DoD has great opportunities," she said, citing the ability to work on programs that directly benefit the warfighter.
Miller said DoD is pushing ahead with programs, scholarships, fellowships and working with industry to attract the talented workforce it needs to gain technological superiority by 2028.
"We're looking at influencing [people] from Kindergarten on out," she said. "We want kids to want to be [science, technology, engineering and math] literate."
DoD also does a lot of STEM outreach, because "we want kids to think the STEM workforce is interesting and exciting. We want them invested in understanding what they can do [to realize] …. their potential for the future."
The DoD needs "to make sure that our workforce is always the best workforce. So we invest in them … to create in-house expertise," to drive DoD forward, Miller said.
Such a workforce, she said, "is critical" to DoD's plans to achieve global technological dominance by 2028.
"We need to capture good ideas to fundamentally change and enable this workforce to get us there," she said.
(Follow Terri Moon Cronk on Twitter: @MoonCronkDoD)