This report originally publishes at marines.mil.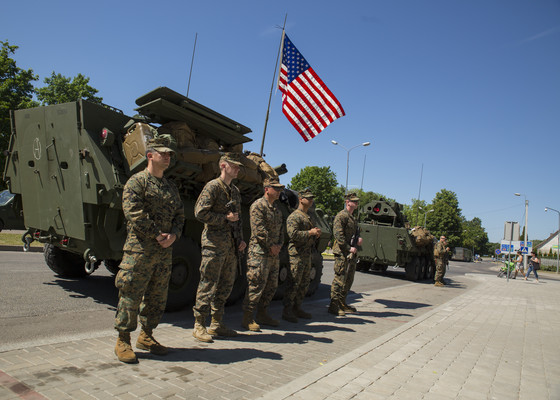 KLAIPEDA, LITHUANIA —
MPF-offload operations such as this highlight the U.S. capabilities to effectively deliver mission essential gear, regardless of location; beach, port or open water.
The USNS Sgt. William R. Button, a roll-on/roll-off container ship, arrived at the port of Klaipeda to discharge the equipment for the exercise. Port operations to retrieve the gear from the Button were conducted by Marines from Combat Logistics Regiment 4 and Combat Logistics Battalions 23 and 453. Working together, the Marines were able to facilitate the movement of more than 300 pieces of gear from ship to shore. This time sensitive movement of equipment was crucial to the success of the exercise.
"It usually takes about three to four days to offload this amount of gear," said Staff Sgt. John Holland, a landing forces support party staff noncommissioned officer with CLR 45 out of Savannah, Ga. "If we can't get the pieces downloaded off the ship fast enough and inspected, staged and ready to roll by the deadline, then it holds up the whole exercise."
The downloaded pieces of gear ranged from artillery, tanks, and light armored vehicles, to heavy equipment vehicles and motor transport assets.
The primary purpose of the MPF program is to enable the rapid deployment and engagement of a Marine Air-Ground Task Force (MAGTF) anywhere in the world in support of U.S. operations.
"The ability to quickly onload/offload equipment is important to the Marine Corps mission as a whole," said, Chief Warrant Officer 2 Matthew Smith, a MAGTF offload liaison officer aboard the Button. "Rather than relying on opportune lift or transportation via different types of vessels, this ship has the ability to offload its cargo throughout the world whether it be at port or at sea. Rapidly deploying the cargo gives Marines training on how to convert the cargo from an administrative load to a deployment ready status."
The MPF offload was an integral part of the Saber Strike, but also to the Marine Corps' mission as an expeditionary fighting force for the U.S. Exercising the loading operations like this helps prepare Marines for any real-life disaster relief or wartime scenario.
U.S. Marine Corps (USMC) reports are created independently of American Military News (AMN) and are distributed by AMN in accordance with applicable guidelines and copyright guidance. Use of USMC and U.S. Department of Defense (DOD) reports do not imply endorsement of AMN. AMN is a privately owned media company and has no affiliation with USMC and the DOD.