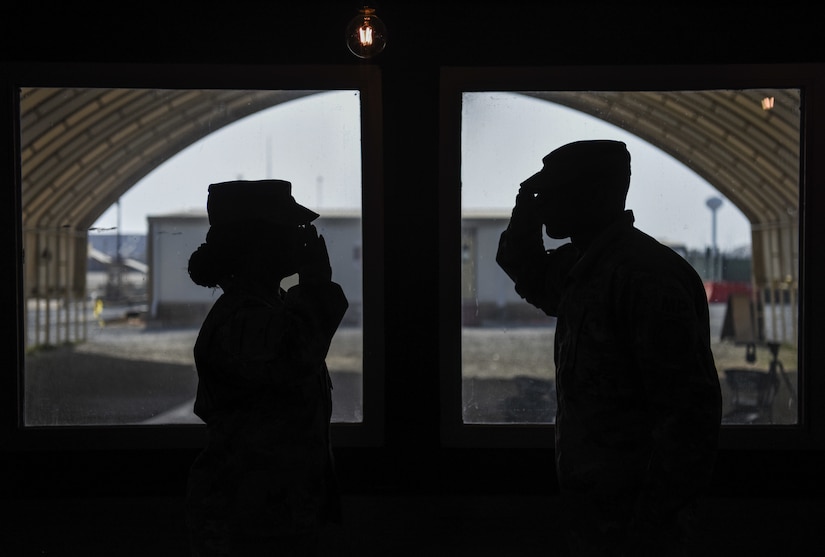 SOUTHWEST ASIA , Feb. 21, 2020 —
A graduate walks across the stage to collect his college diploma and earn his commission in the U.S. Army. Tears well in a mother's eyes as she witnesses her child soar to new heights. This moment marked the beginning of an opportunity to serve side-by-side as mother and son.
U.S. Army Sgt. Maj. Donna Cook, the Command and Control, Communications and Computers Section senior enlisted advisor, and Capt. Lamarkus Dennis, Operations – Security and Protection Section protection plans officer, are both deployed to the Combined Joint Task Force – Operation Inherent Resolve Headquarters in the Middle East.
A time before the military
Before Cook joined the military, she was a mother of three, who worked two jobs to provide for her family. Living in a crowded house and working long hours was not an optimal way of life, Dennis noted.
Cook decided to make a change by raising her right hand and reciting the oath of enlistment.
This milestone would impact her children's lives for years to come.
"The military helped with the stabilization of our family," Dennis said. "It took a lot of our family out of a bad place and put them in a better place and that's my biggest appreciation for the military."
Growing up in a military household
Cook said she always knew her son would follow in her footsteps to serve as well.
"Fort Bragg, [North Carolina] was an installation that catered to the elementary school students – the Soldiers would land UH-60s and Chinooks on the school grounds," Cook stated. "My son would come back home so excited about being able to climb on the helicopters – I knew from that moment on that he would join the Army."
"With growing up on a military installation, they were always exposed to it – that's all they knew," Cook added.
Once Dennis became a teenager, he joined his high school's Junior ROTC program, reinforcing his military upbringing and beliefs.
Upon graduation from high school, however, Dennis was debating what he should pursue. As always, his mom was willing to give helpful advice.
Cook encouraged her son to join his university's ROTC program to place him on a path toward a commission in the Army.
"The way I look at it he was able to accomplish two birds with one stone," Cook said. "He was going to be able to complete his degree and still be able to serve in the military."
The beginning of a career together
Cook describes her son's college graduation as one of her proudest moments and the beginning of a fulfilling career with shared experiences.
Eight years later, Dennis and Cook have been stationed together twice and are currently serving at the same deployed location.
"She's served in the military for 22 years," Dennis said. "It's not every day you get to sit beside your parent and perform the same duties."
"It's a special moment – it's one of those moment you won't ever forget," Dennis added.
When Dennis thinks of his mom, he is reminded of one of his favorite athletes: LeBron James.
"As a son I was looking forward to the opportunity to work with my mom," Dennis stated. "The same way LeBron is trying to stay in the NBA to be afforded the opportunity to play with his son."
Growing together
Cook and Dennis have learned a lot from each other over the years. However, one phrase stands out to Cook the most when she reflects upon what her son has taught her.
"Stick to what you believe," Cook said with a smile.
This particular phrase is one Dennis always tells his mom.
"When you work in this capacity, it's important to not let it change who you are," Dennis added. "As long as your moral compass is straight, you shouldn't change who you are."
Being able to support the same mission while deployed overseas has given them a new perspective on what it means to serve, widening their world view.
"It's an honor to represent CJTF-OIR," Dennis said. "You experience other cultures and it holistically makes you a better person."
"It gives you a different perspective on how you view the world," Cook concluded.