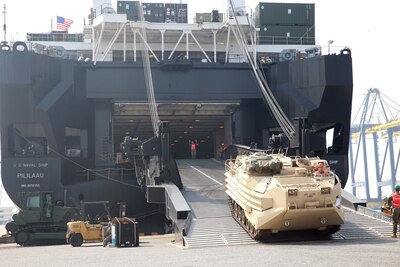 LAEM CHABANG, Thailand, Feb. 10, 2018 —
Military Sealift Command's maritime pre-positioning ship USNS Pililaau arrived at the port here Feb. 5 and offloaded equipment marked for various locations in Thailand to support Exercise Cobra Gold 2018.
Cobra Gold 2018 is a Thailand and United States co-sponsored exercise conducted annually in Thailand.
The Pililaau, a large, medium-speed, roll-on/roll-off platform, was the first of three ships to arrive and offload equipment for this year's Cobra Gold. The other vessels were operated under a U.S. Army Pacific contract to deliver additional equipment.
"We originated from Saipan, traveled to [the Japanese island of] Okinawa and picked up the offload preparation party Marines, then traveled to Thailand for the discharge of equipment," said civilian mariner Capt. Thomas P. Madden, master of the USNS Pililaau. Over the course of about three days, the Marines and the ship's crew discharged about 265 pieces of gear from the Pililaau.
Pre-Positioning Ships
The USNS Pililaau is part of Maritime Prepositioning Ships Squadron 3, a fleet of government-owned ships operated by Military Sealift Command and based in the Guam-Saipan area of the western Pacific Ocean.
In addition, a second fleet, Maritime Prepositioning Ships Squadron 2, based out of Diego Garcia in the Indian Ocean, delivers a strategic power-projection capability for the Marine Corps, Army and Air Force. Maritime pre-positioning ships deliver a forward presence and rapid crisis response capability by delivering equipment and supplies to various locations at sea.
"Put together a few of these ships, and you can sustain [15,000 to 18,000] Marines for 30 days — everything from fuel, food, water, the whole nine yards," Madden said. "With this program, your footprint is a lot less."
Unconventional Logistics Operations
Aside from the common pierside offloads, the Pililaau can also function during unconventional logistics operations such as in a seabasing scenario, when cargo is discharged from ship to shore while at sea. In a seabasing operation, cargo is transferred offshore through an in-stream offload. Offloaded equipment and supplies are then connected with the Marines and sailors staged at nearby land bases.
"It's terrific if you can come into a port to offload cargo, but if those ports are contested or not available, these ships have the capability to anchor off and discharge cargo," Madden said. "By marrying up with an [expeditionary transfer dock and air-cushioned landing craft], we're able to do a little bit more over-the-horizon logistics and discharge cargo at sea."
Meeting Combatant Commanders' Needs
The Maritime Prepositioning Force is scalable to meet the needs of the geographical combatant commanders, or can support exercises such as Cobra Gold with one large, medium-speed, roll-on/roll-off platform.
"If we were to discharge the entire ship, we could fill eight football fields," Madden said. "With enough drivers, this vessel can offload all the [roll-on/roll-off] cargo in less than 24 hours."
However, only select items were required for Cobra Gold 2018. Some of it lay deep in the cargo decks of the Pililaau.
"This involved an offload and backload of a number of [additional] vehicles in order to get to the specific items that the Marines needed," said Navy Lt. j.g. Will Contarino, Maritime Prepositioning Ships Squadron 3 supply officer. As a result, he added, the offload took the offload preparation party three days to complete.
Contarino is serving as his squadron's liaison officer during Cobra Gold, representing Military Sealift Command as the link between the ship's crew and the Marines.
After the discharge operation, the Pililaau moved to a site off the coast of Thailand and will remain there until Cobra Gold 2018 ends. The ship will then return to port and reload the equipment before embarking on in next assignment.
Exercise Cobra Gold, in its 37th iteration, is designed to advance regional security and ensure effective responses to regional crises by bringing together a robust multinational force to address shared goals and security commitments in the Indo-Pacific region.
Military Sealift Command operates some 115 noncombatant, civilian-crewed ships that replenish U.S. Navy ships, conduct specialized missions, strategically pre-position combat cargo at sea around the world and move military cargo and supplies used by deployed U.S. forces and coalition partners.