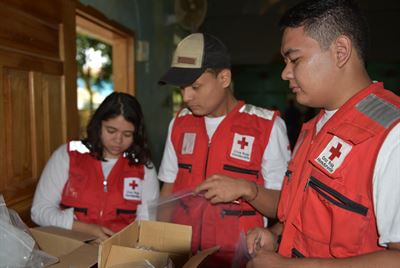 CORINTO, Cortes , Feb. 27, 2017 —
Thirty-three personnel from Joint Task Force-Bravo's Medical Element, Joint Security Forces and Army Forces Battalion participated in a two-day Medical Readiness Training Exercise here, Feb. 16 through 17, providing service for 747 patients.
The medical mission took place in a local school where nurses, providers and Honduran Red Cross volunteers set up to provide preventive medicine, basic medical attention, dental services and medication to the Corinto population.
Selection of a work-site for a medical engagement involves extensive coordination between the U.S. Embassy Country team in conjunction with JTF-Bravo leadership, as well as host nation Ministry of Health representatives to determine the priority and need of a specific area; usually small rural villages with limited or no access to health services.
MEDRETEs provide a real-world environment where servicemembers can hone their medical skills under austere conditions, better preparing them for challenging situations such as a disaster relief response.
"We get used to having laboratory and X-Ray resources available to practice, but the reality is that good care can be given just using our brains and simple tools," said Col. (Dr.) Douglas Lougee, JTF-Bravo MEDEL Commander, "I have learned a great deal from my host nation colleagues over the years. At first glance, we may not understand why they do some things the way they do, but once we understand the reality of their challenges with resources they have, it makes a great deal of sense."
Besides preparation in the medical field, JTF-Bravo personnel also had the opportunity to get military-type training such as how to safely convoy vehicles, keep accountability of people and how to maintain their own health in a field environment, while also developing ties with local health providers, military and other non-government organizations.
Mauricio Paredes, Vice President of Honduran Red Cross, said their contribution was mainly through volunteers who participated as interpreters for U.S. medical personnel. The Red Cross also contributed by having an available ambulance to mobilize patients if they required additional medical support.
"This is the fourth year in a row that we have been working together and we are truly happy to be able to reach our communities," said Paredes. "This provides us with an opportunity to show our capabilities and our willingness to support medical assistance efforts," he said.
While this is a learning experience for JTF-Bravo personnel, health resources are scarce and most hospitals throughout the country remain understaffed and through these type of missions the local Ministry of Health is able to receive much needed support in most underserved areas.
"We learn how much can be done without all the resources we are used to. Our Honduran colleagues are extremely professional and have taught us much over the years. We invariably take away great lessons learned from our colleagues," Lougee said.
This particular MEDRETE was part of a three-piece mission in the Cortes area, with a Mobile Surgical Team performing gallbladder and hernia surgeries in the Area Hospital in Puerto Cortes and a Police Partnership Engagement taking place in San Pedro Sula.