This report originally publishes at marines.mil.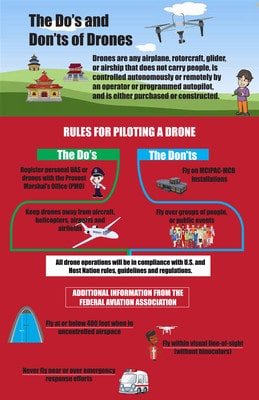 CAMP FOSTER, OKINAWA, Japan —
Marine Corps Installations Pacific-Marine Corps Base Camp Butler has issued MCIPAC-MCB Camp Butler Order 3000.1 to ensure the safety and security of military personnel and facilities amidst the increasing popularity of Unmanned Aircraft Systems.
UAS are defined as any airplane, rotorcraft, glider, or airship that does not carry people. They may be controlled independently or remotely by an operator or programmed autopilot and are either purchased or constructed.
Your personal UAS must be registered with the Installation Provost Marshal Office. The UAS' serial number and various features will be recorded and you will sign an acknowledgement stating you understand UAS operations are prohibited aboard MCIPAC installations.
If you see UAS used aboard MCIPAC-MCBB installations, you should report it to PMO immediately. This includes intrusions from outside the fence line or suspicious operations near base perimeters, restricted airspace and sensitive facilities.
Service members who fail to follow this order may be held accountable through administrative action or the Uniform Code of Military Justice. Civilian personnel may be subject to adverse administrative remedies or even face denial of access to MCIPAC installations.
If you plan to use your UAS off-base, ensure you comply with all U.S. and Host Nation rules, guidelines and regulations. Failure to do so may result in criminal sanctions by the U.S. government or Host Nation laws.
For information on how to register at your Installation, visit https://www.mcipac.marines.mil/Staff-and-Sections/Special-Staff/PMO/UAS-Policy/
U.S. Marine Corps (USMC) reports are created independently of American Military News (AMN) and are distributed by AMN in accordance with applicable guidelines and copyright guidance. Use of USMC and U.S. Department of Defense (DOD) reports do not imply endorsement of AMN. AMN is a privately owned media company and has no affiliation with USMC and the DOD.